Power Flickering Caused IGBT Failure In IMPEX OMEGA H-5 Induction  Cooker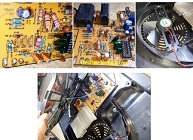 There was an SOS call from my wife once again from the kitchen, though after a pretty long time (Last failure of IGBT in this was in June, 2019) She said that the IC (Short form being used by me for Induction Cooker) was not getting on and there was a power failure in a portion of the kitchen/work area. I checked the switch box and found that No.10 MCB had tripped.
As per a list provided by me inside the switch box, this covers the power connections in the Kitchen and work area. I asked her to switch off the IC and then switched the MCB on and found it to be ok. Then I asked her to switch on the IC, resulting in MCB tripping again. This was a clear indication of shorting of the IGBT, which I was expecting to happen due to frequent power fluctuation and flickering taking place in our area.
I brought the IC to my workshop (front bed room converted as workshop) and opened the set. Did a general cleaning though there was not much dust inside. The short blow fuse was intact. So, after dismantling the boards, straightaway I removed the IGBT and tested it. It was dead short and was the culprit. In order to ensure that it has not failed due to any defective components, combed the entire board, removing IC from its socket, a few transistors, one end of a few resistors etc. I did not find any defective component in the entire board.
Same was the case in the control board also. As I had already replaced all the electrolytic capacitors once in this IC, I just checked the ESRs and found these to be ok. After making sure that there were no other defects, I replaced the IGBT, re-assembled the boards. As its fan was getting stuck occasionally, upon which I used to turn the IC and give a strong tap on the outer net to make it run, I decided to replace it, having opened the cooker. So, in a way, this service made that also possible, i.e., double benefits!


Then kept the top cover without fixing it with the screws, took it to kitchen and switched it on courageously. As I was happy to have found it working, heated up a cup of water and allowed it to run for a few minutes more using it to heat up the milk etc. Then switched it off, brought it to workshop and fixed all the screws. Job accomplished with multiple benefits, and satisfaction got collected to its usual place! My wife was happy once again on a quick fix done!


This article was prepared for you by Parasuraman Subramanian from India. He is 71 years old and has more than 30 years' experience in handling antique equipment like Valve Radio, Amps, Reel Tape Recorders and currently studying latest tech-classes conducted by Kerala State Electronics Technicians' Association. He has done graduation in BBA degree, private diploma in Radio Engineering and retired as MD of a USA company. Presently working as Consultant to Hospital and other institutions.
Please give a support by clicking on the social buttons below. Your feedback on the post is welcome. Please leave it in the comments.
P.S-If you enjoyed reading this, click here to subscribe to my blog (free subscription). That way, you'll never miss a post. You can also forward this website link to your friends and colleagues-thanks!
You may check on his previous repair article below:
https://jestineyong.com/backlight-replaced-and-led-driver-bypassed-in-lg-led-tv-model-32lf561d-tf/
Likes
(

59

)
Dislikes
(

0

)