Power Supply, Backlight And Scaler Board IC Failure Solved In VU LED TV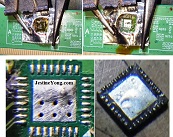 As mentioned by me in the article on Sony Bravia TV backlight change, this is the other TV that got repaired finally by my technician friend. Once again, the snap of the TV in dead condition was not taken!
This belonged to my schoolmate, who lives a few houses away from my home, in the same road. He brought it to me with the complaint that the Led light comes on and goes off to standby and no display comes to screen. After opening and cleaning the inside, I saw a bulgy capacitor, 470/16V, in the power supply section of an all-in-one board used in the TV. I replaced the capacitor and looked for any more damages and could not find any.


Though the power supply now functioned and the TV got released from its standby, there was no display. When I checked the voltage that goes to LED backlight, it was zero. I suspected that the LED light might have got shorted inside.
So, used an LED driver tester and found that the LED was getting on with a reading of around 69.4V. The suspicion was on the driver circuit. I got the pin details of this LED Driver IC SN51DP from my techie friends. Later, when I was writing this article, I got one like below too:


Then I checked up the voltages on each pin and found the following:

Since the required voltages were present and no output was detected, I looked for any shorting components around it and could not find any. I tried to fetch a replacement IC. This was not available. So, decided to use an LED driver board, which is commonly available in the market. The advantage of this board is that you can just wire it as mentioned there and just disconnect the driver output from the main board. (As I have already covered about this LED driver board in detail in my previous article Backlight Replaced And LED Driver Bypassed In LG LED TV MODEL 32LF561D-TF | Electronics Repair And Technology News (jestineyong.com) I am not elaborating it here again).

After this, when I switched on there was display, but with several vertical lines across the screen.

When I checked the voltages on the input of level shifter IC S302-11, I got the following voltages: V_com=7.14, VGL= Minus 9.28, VSS=5.93, AVDD=15.4, Panel Voltage=11.79 and VGH=29.90, which were all normal.
So, I consulted my techie friends, who advised me to cut LC1 and LC2 outputs of level shifter IC S302-11, which I did. But when applied the power, only some of the lines had vanished.


On further advice, I also cut ST1. After that when I switched on, no display came and on checking I found all the voltages which I indicated earlier were missing. This showed a short somewhere. In order to check whether it was a problem of the booster IC, P303-11, or failure of the level shifter IC, S302-11, I used a booster board.

When I wired it and applied a 12V externally, I found that the voltages were dropping, indicating that the level shifter IC could have crashed.

In order to remove this tiny IC, I applied desoldering liquid around and touched fresh solder on all the pins. Then I used a thin metal sheet, which I cut in the middle to cover the surrounding components of the IC, and used clips to keep it tightly in place. Used my hot blower, MAX8550, keeping the temperature at maximum and adjusting the air throw to the required limit. The IC came off easily. Then removed the metal sheet, cleaned the places thoroughly. Applied fresh solder on the IC pins for soldering a new one, which I had ordered.

Unfortunately, instead of sending me S302-11, P302-11 was sent by the supplier. So, I had to return it and take a refund, as he did not have S302-11.

I really hunted for S302-11 with all the available sources around. None of them had. Finally, another technician friend sent me a scaler board, which had S302-19 and asked me to try if the pins match. I checked and found that the markings of VGL, VGH, power supply, ground, and data pins were all exactly same.

Though I tried my level best to solder this IC, which had its legs underneath, I could not. The problem was placing the IC on a slanting scaler board. If at least one leg got soldered, I could have it in place and soldered the rest. But that was not possible. I had even bought a Microscope to enable soldering. But I could not manage, probably due to lack of experience in this remote operation. After several futile attempts, I decided to take my friend's help, for which I carried this TV also along with five others, which all got collected, as mentioned in my article on Sony Bravia backlight change. My friend first cleaned the seating portion of the IC thoroughly. Then soldered the S302-19 after several attempts. After studying the videos of previous problems of lines on the screen, he applied VGL/VGH voltages on the LC1/LC2, after joining the ST1. But the horizontal lines did not vanish. So, he shorted the two and used a 3.9K resistor and applied voltage from AVDD.


Then when the TV was switched on, it worked perfectly well. These tricks are very well explained in LED repair books being published, about which Jestine Yong regularly provides links in his newsletter.

The above picture is when it was continuously tested for hours at his place. The following picture is when I tested it next day in my home.

After trying it for several hours, it was delivered to the customer, adding a great satisfaction to its collection bag.
Well, I have to say, in conclusion, that handling such multiple failures is a thrill for hobbyists like me, especially when one is as old as 72! (LOL).

This article was prepared for you by Parasuraman Subramanian from India. He is 72 years old and has more than 30 years' experience in handling antique equipment like Valve Radio, Amps, Reel Tape Recorders and currently studying latest tech-classes conducted by Kerala State Electronics Technicians' Association. He has done graduation in BBA degree, private diploma in Radio Engineering and retired as MD of a USA company. Presently working as Consultant to Hospital and other institutions.
Please give a support by clicking on the social buttons below. Your feedback on the post is welcome. Please leave it in the comments.
P.S-If you enjoyed reading this, click here to subscribe to my blog (free subscription). That way, you'll never miss a post. You can also forward this website link to your friends and colleagues-thanks!
You may check on his previous repair article below:
https://jestineyong.com/just-patching-up-dry-solder-revived-a-dead-zebronics-computer-pc-smps/
Likes
(

69

)
Dislikes
(

0

)