Problem In LED TV Backlight Modification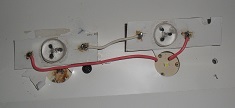 A customer sent to me this 32″ Innovex LED TV with the complaint of No Display but the sound were good. The power LED also lighted up. This kind of problem usually indicate backlight fault because the sound were present.

Once the TV cover was removed, the first thing I checked was the LED backlight. I used the LED TV Backlight tester to test on the backlight. For the LED TV Backlight, after you have turned On the device, it will show 300VDC. For a good LED TV backlight, it will show DC volt and the voltage is depends on how big the TV is.
But in this case, eventhough I have placed my probes to check on the LED TV backlight, it still showed 300 volt! This means the LED TV backlight have an open connection and need to dismantle the panel to check on the internal LED TV backlight.


Advertisement

New Ebook By Humphrey On Home Theater Repair Guide
================================================================
Once the panel parts were removed I saw someone had done a modification on it.
It was badly done by the previous repair technician and you can check on the two photos below:


Next, what I did was to replace all the internal LED backlight since I have the parts.

After replacement with the new LED TV backlight and Powered On,
I was happy to see all the LEDs were lighted up without shutting down.

I assembled everything back and take a look at the two photos below:


Conclusion- You need to invest on the test equipment that is relevant to your job. Just imagine if I don't have the LED TV backlight tester, I may be in the guessing game and guessing game usually will take lots of your precious time because you do not know if a particular component is good or bad. If you wish to learn more repair tips and tricks about LCD/LED/OLED TV Repair you can check out on Kent's ebooks here.

This article was prepared for you by Suranga Bandara who owns an Electronics repair shop in Anuradapura, Sri Lanka.
Please give a support by clicking on the social buttons below. Your feedback on the post is welcome. Please leave it in the comments. If you have electronic repair articles to share with us, please contact us HERE.
P.S- If you enjoyed reading the above article, click here to subscribe to my blog (free subscription). That way, you'll never miss a post. You can also forward this website link to your friends and colleagues-thanks!
Note: You may check out his previous post about How To Repair LG LCD TV With No Power Symptom
Likes
(

69

)
Dislikes
(

2

)