Provided Speaker Protection Circuit In Philips Amplifier 22AH393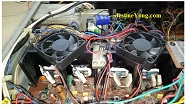 This Amplifier, which was being used by us in the home, suddenly developed problem in the left channel and it became silent. In spite of my year long experience, exposure, knowledge and furthermore, the history of this Amp, when it was restored by me a few years back, it did not strike me to be cautious when testing it!

I connected that channel to another speaker to get a silent result after a 'pop' sound! Result? Coils of two of my good speakers got burnt! I cursed myself for my carefree attitude and over-confidence!
Having done this damage, I opened the set and straightaway looked for shorted output transistors and found B617 and D587 short, delivering around 32V to the speaker output. What a sad thing to happen! Anyhow, I replaced the transistors and looked for any other component failure and found two resistors also open.

Got the speakers restored with new coils and having now better sense prevailed, decided to provide speaker protection circuit to this Amp, using UPC1237. I downloaded the pdf file from http://hifimediy.com/download/Speaker_Protection_Circuit.pdf
Gathered the components from my stock and assembled it on a veroboard (For those who do not know what is veroboard, please view https://en.wikipedia.org/wiki/Veroboard) . For providing a separate power supply of 12V, I fixed a separate transformer near to the TX (Transformer) of the Amp, provided the rectifier diodes (IN4007x4 with 0.01 ceramic capacitors across each diode), filter capacitor (4700uF/25V) and 7812 IC for regulation and further added a 220uF cap to its output for better stability, since regulator ICs are a bit noisy. Connected this isolated power supply to the circuit and found it to be working.
Fixed this board inside the AMP, which had ample space in it. Decided to also add two cooling fans for the Amp Output Transistors. So, added one more 7812 and fixed two cooling fans parallel, one each on top of each pair of transistors. The work was completed fully and amplifier was tested for hours together for proper functioning. Since the bottom plate was found rusted, I cleaned it using emery paper and used a canned spray paint and applied a few coats of paint on both sides. I did the same thing for the top cover too. The amplifier looked like brand new one now!






When one of my regular customer-cum-friends visited my house, he wanted this Amp and I sold it to him, with confidence that I have done what best I can do for its long life. Needless to say that another job got added to my satisfaction bag.
For those of you, who may not know, I am giving a snap of the spray paint I used. This is enamel paint and does not need primer, if the surface is clean enough or that has previous paint on it. The colour selected was 36 Silver to match the cabinet's original colour. (I forgot to mention that I cleaned the surfaces and scraped rust formations using emery paper, followed by one more round of cleaning, before I applied the paint. I hang the cabinet on a string in my lawn and sprayed the paint standing safely away, after studying the blow of wind, so that it does not come on to my body. I was also wearing a mask in order not to inhale the spray. I repeated the spray after giving time for the previous spray to dry, until the surface was smooth and shining. Whenever, I found thickening or lump formation, I scrubbed it off using thinner and repainted that portion. Let me be honest, this is my first attempt of such a work!)


This article was prepared for you by Parasuraman Subramanian from India. He is 69 years old and has more than 30 years' experience in handling antique equipment like Valve Radio, Amps, Reel Tape Recorders and currently studying latest tech-classes conducted by Kerala State Electronics Technicians' Association. He has done graduation in BBA degree, private diploma in Radio Engineering and retired as MD of a USA company. Presently working as Consultant to Hospital and other institutions.
Please give a support by clicking  on the social buttons below. Your feedback on the post is welcome. Please leave it in the comments.
P.S-If you enjoyed reading this, click here to subscribe to my blog (free subscription). That way, you'll never miss a post. You can also forward this website link to your friends and colleagues-thanks!
You may check on his previous repair article below:
https://jestineyong.com/dead-short-diode-found-in-acer-p66hql-lcd-monitor/
Likes
(

52

)
Dislikes
(

0

)