Purple Color In CRT TV Repaired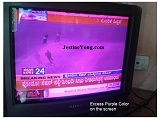 One day one of my friends called me up and stated the problem as mentioned below:

On his call I have visited his home while back to home from the work and I have turned ON the TV; getting exact symptom as stated. So first I have checked signal cables which come from Set top Box found ok. So now it is time for operation.
So I have opened the TV for further diagnosis and started visual inspection – till nothing found like physically damage or burnout parts. So I have started troubleshoot from the CRT Base PCB, with help of screwdriver handle I taped on the CRT base PCB & I have got positive sign of suspect, for a moment screen got clear image and turned back as it was purple.

That means there is some loose connection. So I have removed the CRT Base for inspection.

On visual inspection everything seems to be Ok on component side.
Finally I took out my magnifier glass to inspect on solder side of the PCB and I Have found lots of dry soldered points through my magnifier glass.

Now it is time to revive the solder joints on suspected area.

After Refreshing the solder I have attached the PCB on its location and power ON the TV and see the result. Yes problem solved.
For reconfirmation about fault I have again taped the area with help of the screwdriver handle I found this time it is firm.


This article was prepared for you by Yogesh Panchal who works as a Computer Hardware Engineer in Mumbai India.
Please give a support by clicking on the social buttons below. Your feedback on the post is welcome. Please leave it in the comments.
P.S- Do you know of any your friends who would benefit from this content that you are reading now? If so, forward this website to your friends or you can invite your friends to subscribe to my newsletter for free in this Link.
Note: You can check his previous repair articles in the link below:
https://jestineyong.com/samsung-laptop-r418-suddenly-went-off-without-any-error-on-the-screen/
Likes
(

96

)
Dislikes
(

1

)