Raspberry Pi 5 Volt 3 Amp Adapter Repaired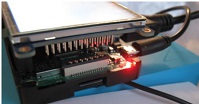 Like all those Raspberry Pi users that use the newer 3B and 3B+ Pi's that consume more Amps I used an 3 Amp 5V adapter to be safe.
And I added a new Adafruit PiTFT 3.5 inch 480×320 touch screen to make it more portable. Those need about an extra 120 mA current for the backlight. Which still would be within current limits for my 5V 3A Raspberry Pi adapter to work.
But suddenly after quite a few Raspi re-boots the hardly used brand new adapter no longer provided the needed 5V power. Which was completely unexpected.

Opening the plastic case was very easy and just with a screwdriver I could open the clipped case.
And I was almost sure nothing really bad could have been causing this. And as I thought it was just the primary Inrush current limiter resistor used as fuse that had gone bad. (see red arrow marking).





Above the bad resistor that was replaced. After a new resistor was soldered in its place my 3A adapter was working and my Raspberry Pi fully operational again. As next photos show:

Just my 3.5 inch new PiTFT 480×320 touchscreen did not yet work because apparently they only are easily installed when an active online connection is used. Because I in vain tried for a long day to get the Pi TFT screen operational and for the time I decided to give up trying to get it working.
On some sites they claim that it can be done offline too, but I do not think that I can if I do not have the right matching driver for my new TFT touch screen. And because it is python (3?) and maybe some Linux code I think it is far from easy! And most sites share a lot of useless crap! While even their Raspi installer and their images do not install and so do not work at all! It is a real shame that they sell these new TFT screens without any given appropriate screen drivers! It is still firmware that rules in these modern electronic days!


Above my again to my Raspberry Pi connected working HDMi monitor after the cheap China Aliexpress adapter was fixed.
It looks however that it still will take some time before also my new 3.5 inch TFT screen finally works. Although they said in the advert that it was just a matter of pluging it in on my Pi, it sadly was just a false promise to sell these touch screens. Which only would be true if the missing driver wasn't needed and the hardware already contained this configuration in an eeprom or some equivalent chip on board of this touch screen.
A day later I finally found the reason why this brand new bought PiTFT plus 3.5 inch touch screen refused to work. And why only the white backlight from this on the Elektor website bought resistive touch screen worked. Apparently it was sold as a new screen for Pi Zero, Pi 3, Pi 2 and models A or B. But my Raspberry 3B+ never worked with this display, and it neither was just easy plug 'n' play as was mentioned on their website, and it neither was equipped with an extra hdmi port for another display as was promised. Only when I installed this probably already 4 years old dated PiTFT screen on an older Raspberry Pi 2B+ model it finally worked on a specific for the Raspberry model Pi2B+ designed PiTFT image.
In my humble opinion any new device that needs an online connection just to get it installed is something I should't trust or even should buy! This sadly also shows that all good things also come with a catch. Because now that the internet is part of our daily lives everything these days only seems to work online connected. Which in my opinion is something that is nothing more than a dangerous development. If in future not only our personal data can be found online, but also the temperature of our homes, the content of our refrigerators, the webcam in our laptop, or the temperature of the water in our showers can be managed and controlled from the outside by any unfriendly hacker. And the problem in all those cases already becomes major if someone just causes a power line shortage.
Until another probably also unexpected repair!

Albert van Bemmelen, Weert, The Netherlands.
Please give a support by clicking on the social buttons below. Your feedback on the post is welcome. Please leave it in the comments.
P.S- If you enjoyed reading this, click here to subscribe to my blog (free subscription). That way, you'll never miss a post. You can also forward this website link to your friends and colleagues-thanks!
Note: You can read his previous repair article in the below link: https://jestineyong.com/pickit3-programmer-repair-after-mplab-deadflashed-it/
Likes
(

50

)
Dislikes
(

0

)