Remote Car That Suddenly Stopped Working Repaired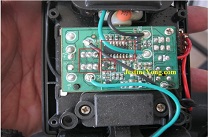 My son owns a lot of toys that does not use. This remote car was sitting in his room for almost a year. One day my son and I decided to organize that mess and see what toys he wants to keep or donates.

It is a nice cool looking car and my son wanted to donate that. I put fresh batteries in the car and the remote control and powered them on. Both the car and the remote control came on but I could not control the car for some reason.
My son took the remote out of my hands and gave it a smack and the car worked. It seems like loose connections there so I took the car and the remote control to my shop for further inspection.

It is a powerful car and it can go up the hills very easily but it needs five batteries and one 9 volts for the remote control.


Few screws off and I was able to see the inside of the device and right away I could spot the cold soldering joints there.
I re soldered all the joints there; made sure all is well. I cleaned the switches, the board, put everything back together and tested.

I also took the cover off on the car and re soldered all joints there and made sure all is well there too. As you can see in the photo, the car worked perfectly.
On question remained, who will be the lucky kid to get this car? I did not wait for long because one kid who lives nearby my shop saw me testing it and he was asking me questions and right away, he became the owner of the car. He was happy and surprised at the same time. Later on my son and this kid became good friends.
Mission Accomplished

This article was prepared for you by Waleed Rishmawi, one of our 'Master Authors' and currently working in the Bethlehem area of Palestine repairing electrical and electronic equipment.
P.S- Do you know of any your friends who would benefit from this content that you are reading now? If so, forward this website to your friends or you can invite your friends to subscribe to my newsletter for free in this Link.
Note: You can check his previous article on How To Repair Turkish Welding Machine
Likes
(

60

)
Dislikes
(

0

)