How To Repair Automotive Relay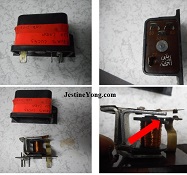 This automobile relay was brought to me and the complaint was the high beam (light) was not working.

The relay was opened up to check on any defect. As you can see in one of the photos above, the one with the red arrow, the plastic was deformed, and watch carefully the point of the red arrow: the black plastic tip could not fix into the hole in the metallic piece. I suppose the malfunction was due to an overheating.
Then I asked for the power of the bulbs used in that automobile: 2*60/55w (H4) + 2+55w (H1)
By taking into account Ohm's Law we have:

Therefore I= P / V
For the 60/55 w bulb (H4)    I = 60 / 12 = 5A x 2 bulbs I = 10 A
For the 55w bulb (H1)            I = 55 / 12 = 4.6 A x 2 bulbs I = 9.2 A
Therefore 10 A + 9.2 A = 19.2 A
As you can see the total consumption is 19.2 A. Then I looked for in my spare and found two relays (recovered from unused Back Up UPS) of 10 A each one.

The old relay was mounted into a vice and with the help of a hacksaw blade the coil and the out-blade were cut.

Now it was really necessary to solder the new relays respecting the correct wiring.

The above image is taking into consideration the Standard DIN 72552.


The connections were soldered in parallel and the relay was tested with voltage.

Now the new relay are interconnected in the same box and prepared for functioning. By the way, the car relay is in use now and everything's fine.

This article was prepared for you by Humberto Rodriguez, one of our 'Master Authors' from Cuba
Please give a support by clicking on the social buttons below. Your feedback on the post is welcome. Please leave it in the comments.
P.S- If you enjoyed reading this, click here to subscribe to my blog (free subscription). That way, you'll never miss a post. You can also forward this website link to your friends and colleagues-thanks!
Relay related article:
https://jestineyong.com/servicing-relay/
https://jestineyong.com/nissan-pulsar-intermittent-wiper-relay-repaired/
https://jestineyong.com/bad-relay-found-in-kia-car-pride/
Likes
(

95

)
Dislikes
(

1

)