Repaired Digital Multimeter Display Screen Turning To A Dark Patch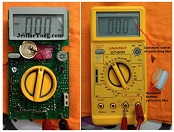 I am having an old digital Multimeter which has not been used since last 18 years. Because it was little bulky to carry on field work and consuming more place in tool bag. In this covid lock down period I have started some maintenance work of my old tools which I am rarely used.
So when I have taken this multimeter on my workbench I found the display screen is having some dark black patch on it in and numbers are difficult to read.

On opening I found 9v Battery was leaked and dried in side. I have cleaned the meter from inside and turned it on by putting new 9V battery. On testing I found all the ranges working fine but reading on screen is blurry and unable to read number clearly.
So I have decided try to repair this problem. I have removed the LCD display unit. It looks like liquid spilled inside the screen.
Here I have no idea what size and type of screen I have to get replaced with and if I get the screen may work may not work and it is not economical also. So I have only two options either tries to repair and if no success then salvage the parts.

This type of screen is made of different layers i.e. From top to base:
1) Plastic Protective Layer
2) Polarizing filter sticker
3) Glass assembly and liquid crystal ink sandwich
4) Reflective foil sticker

Note: Edge & Corner of this glass display is very sharp so take care while handling.
Now from top layer removed Polarizing filter film (Dark Black) using sharp blade.

(Be careful while removing because this film is firmly stuck on the screen by glue, in hurry…. while removing the film one side corner is torn down by me) that also I have cleaned with thinner and IPA with use of cotton cloth ……
Then I have removed LCD Display and removed the Reflective Silver like foil sticker (Shown on above pic) from the base of LCD & Wiped out the sticker glue from the Glass of LCD using thinner and IPA with use of cotton cloth.
The bottom reflective film layer has simply lost some of its shiny paint (shaped like a dark oval), due to age and temperature, hence unable to reflect light properly and showing patch on the screen.
Now once you remove the bottom reflective film you cannot reuse it because it will not remain in the shape as earlier. for solution to this I have removed one backlight reflective sheet from old damaged LCD screen of the laptop and cut it down in exact shape.

Now it is time to re assemble the unit ….

Now it is time to see result

As damaged corner is not disturbing the digits it is ok for workbench use. This way I saved my multimeter going to scrap.

This article was prepared for you by Yogesh Panchal who works as a Computer Hardware Engineer in Mumbai India.
P.S- Do you know of any your friends who would benefit from this content that you are reading now? If so, forward this website to your friends or you can invite your friends to subscribe to my newsletter for free in this Link.
Note: You can check his previous repair articles in the link below:
https://www.electronicsrepairfaq.com/doorbell-repaired
Likes
(

83

)
Dislikes
(

0

)