Repaired Electric Camphor Diffuser And Capacitor Discharge Tool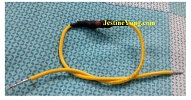 One of our housing society members came with Electric Camphor Diffuser to my place he needs my help to repair the unit. Problem stated by him is when he powers ON the unit – LED power indicator lights up but plate is not getting hot properly.

Confirmed the same problem by testing that plat is not getting enough hot to melt the Camphor.
So this problem lead to heating element section because line is Ok and plat is heating low.

I have Just by pass this section for testing after visual inspection of wires which are going to the heating element. Now problem is that upper steel cup with plate is spot welded and it is not possible to open it without breaking. I managed to open the upper plate.

Found wire wound ceramic resistor broken in side which is used as heating element and because of this reason resistor is not making proper connection to steel plate hence it is not getting hot properly.
So I desoldered the resistor for finding exact value. On testing resistance multimeter shows me 4.9KΩ on (20K Range)

So on searching in my component collection I found two resistors of nearby value.

I have used 4.7KΩ 10W resistor. Properly fitted the resistor on its place and make metal clamp bit tight by using Plier.

Reassembled the unit for testing and on testing I found problem is fixed. Now what about the resistor which I have tested and showing 4.9KΩ but ceramic body is broken……………………
I have made useful tool out of that……………..
I have soldered two wires on both the end of resistor……………..
And insulated it using heat shrink tube………….
And Made………….

A CAPACITOR Discharge Tool


This article was prepared for you by Yogesh Panchal who works as a Computer Hardware Engineer in Mumbai India.
P.S- Do you know of any your friends who would benefit from this content that you are reading now? If so, forward this website to your friends or you can invite your friends to subscribe to my newsletter for free in this Link.
Note: You can check his previous repair articles on No Ringing In Mobile Phone Repair
Likes
(

47

)
Dislikes
(

0

)