Repairing LED FloodLight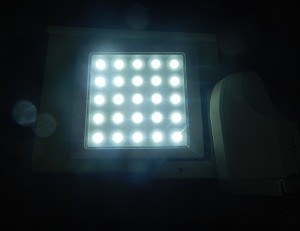 Last week my friend sent to me couple units of LED floodlight for repair. His company is dealing with all sort of products and one of the products is the LED floodlight. This is high end LED floodlight costing more than USD200 per unit. For your information I have never repair any LED floodlight before.

My first move was to analyze the power and the LED board and just after 15 minutes I could roughly know how this thing operates. It consists of a power supply board that produces 24 VDC and this voltage is sent to the LED board. In the LED board the 24 VDC is needed by 5 SMD driver ICs to drive 25 pieces of high powered LEDs. This means each driver IC drives 5 LEDs.


Since my friend is the importer for this product (this is a made in China product) thus he brought along some of the components provided by the manufacturer. The repair was not that difficult because the common fault was a bad bridge rectifier and a fuse. There was a unit with a burnt Varistor and bulged main filter capacitor (10uF 400V). It seems that the power IC is quite robust. The secondary side filter capacitors looked very quality too.


In of the repairs, there was one row of LEDs did not lighted up. Upon inspection found the driver IC AP 8802 burnt and a replacement brought the light back again. This SMD IC AP8802 underneath has a layer of heatsink. You cannot use a normal solder gun to remove it because you may break the IC. You need to use a rework station. Within seconds the IC was easily removed by the hot air from the rework station.


Conclusion-Overall the repair was quite easy and straight forward. This is an opportunity for repairers because nowadays more people are using LEDs light. Try approach the lighting shop to see if they have any LED lamp for repair. I'm actually referring to the high end LED lights and not those cheap LED lights. This can also add more products to your business. Just yesterday, he sent to me another batch of LED lights but this time was not floodlight, it was high end downlights. They were not much different in the boards between the LED floodlights and the LED downlights.
Hope you have enjoyed this repair article and please give a support by clicking  on the social buttons below. Your feedback on the post is welcome. Please leave it in the comments.
Jestine Yong
Likes
(

71

)
Dislikes
(

3

)