Replaced LED Board In 100W Garden Light Model STURLITE IP66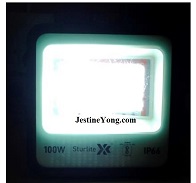 This light belonged to the hospital where I worked and was brought to me in dead condition. I opened the four screws from behind and inserted a blade to detach the top portion from its case, as it was glued. I saw two LED drivers providing the voltages required lighting up two sets of LEDs totaling to 240 nos. (20×12). Kindly use cntrl+upward arrow keys to zoom and view the above pictures. You can perhaps see a few LEDs burnt. I desoldered the LED board and removed the fixing screws and took it out. When I checked the voltages of the LED Drivers, I could read around 54V, which was without any load. Took measurement of the board and hunted for replacements through local as well as online shops.
But none had the correct size. The technology had advanced that high power LED boards were coming with SMD ICs and rectifiers for directly connecting to 230V AC without an external module. I ordered for one. Then used a hotplate to remove the 240 SMD Leds and found it to be cumbersome and consuming a lot of power. So took out the board to my car garage, used a carpenter thistle and chipped out each and every one of them. Used emery paper and smoothed the surface. Here you can see the plate after all these special types of works:

The new board arrived and I checked it applying AC and found it to be working. Applied heat zinc compound on the rear and fixed it on the old board and stuck it with LED backlight fixing double sided tapes.
I also drilled holes to put screws so as to ensure that the new board was firmly and evenly stuck to the old board. Then fixed the board to the cabinet and soldered the AC input wires.

I had tested it after connecting and found it working, before I fixed the front and back covers. The light was providing brilliant illumination and I was happy to see that the experiment really worked. I really wondered how these Chinese guys developed such tiny ICs that can deliver the power required! Anyhow, mission accomplished getting satisfaction gathered to its collection!

The electrical staff at the hospital was very happy to have got back the light fixed.
I am yet to raise my bill for this work, though it was completed on 25th August, 2023. (I am writing this article in October!)

This article was prepared for you by Parasuraman Subramanian from India. He is 72 years old and has more than 30 years' experience in handling antique equipment like Valve Radio, Amps, Reel Tape Recorders and currently studying latest tech-classes conducted by Kerala State Electronics Technicians' Association. He has done graduation in BBA degree, private diploma in Radio Engineering and retired as MD of a USA company. Presently working as Consultant to Hospital and other institutions.
Please give a support by clicking on the social buttons below. Your feedback on the post is welcome. Please leave it in the comments.
P.S-If you enjoyed reading this, click here to subscribe to my blog (free subscription). That way, you'll never miss a post. You can also forward this website link to your friends and colleagues-thanks!
You may check on his previous article on Third Visit Of Complaint Monger DENON AVR-X500
Likes
(

42

)
Dislikes
(

0

)