Replacement Of Backlight And Adjustment Of Driver In Smart Light LED TV MODEL DAWN 40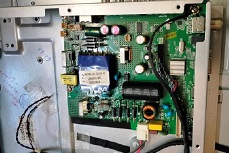 This TV was brought by an Auto driver hitherto unknown, recommended by another customer, who is involved in CCTV installation and maintenance. The complaint was sound ok but display missing. I suspected failure of backlight. I opened the back cover and did a thorough cleaning of inside.
Then when I checked up the board, LED driver output was coming (around 92V). I checked the LED backlight using my tester and found it to be defective. As you all know, this involves total dismantling of the TV in order to have access to the backlight.


I ordered for replacement and got it next day. Out of the four strips received, one was found defective! Anyhow, luckily I had bought four strips as it comes as four come in one set. After fixing the backlights, for which I had to do a bit of modification as the lengths and holes for the screws were not matching. I drilled fresh holes in the strips at required positions and scraped the top to prevent any shorting. Normally many technicians cut the strip and remove just one LED with its heat zinc and adjust the mounting positions to suit the original and fix the cut LED strip on top, and wire it to the bottom. The work might look crude and there could be slight variation in focus. My work took more time but I could fix the strips at the bottom. The holes on the reflector had to be cut and resized to suit the LED domes. This was unavoidable. I covered the other open area with white tape. Unfortunately, I forgot to click this work which could have made explanations clearer. I am sorry! Then fixed the reflector, diffusion sheets and panel as how it was before. Fixed the frame to enable tilting safely without causing a scratch or damage to panel. Connected the LVDS cable and applied power. When I measured the voltage it was showing 62.6V. 18 LEDs of 3V each should get only up to 54V. The current drawn was also a bit high. The desired limit was around 300-350mA.
As you can see from the following picture, there were three 1 Ohm SMD resistors connected to the source of the Driving Mosfet. I just removed one of them to reduce the voltage and current. So it dropped to a safe limit. The final reading after this adjustment was 49.8V. The readings taken by me were recorded on the metal frame for guidance to any technician who opened it for a future service. This adjustment of the voltage and current is a must. I also replaced the electrolytic capacitors, which is a part of preventive maintenance.

After this work, I fed a video and the TV worked very well. The back cover was fixed for delivery to the customer after checking the TV for several hours.
Mission accomplished and satisfaction got pumped into the storage bag!


This article was prepared for you by Parasuraman Subramanian from India. He is 72 years old and has more than 30 years' experience in handling antique equipment like Valve Radio, Amps, Reel Tape Recorders and currently studying latest tech-classes conducted by Kerala State Electronics Technicians' Association. He has done graduation in BBA degree, private diploma in Radio Engineering and retired as MD of a USA company. Presently working as Consultant to Hospital and other institutions.
Please give a support by clicking on the social buttons below. Your feedback on the post is welcome. Please leave it in the comments.
P.S-If you enjoyed reading this, click here to subscribe to my blog (free subscription). That way, you'll never miss a post. You can also forward this website link to your friends and colleagues-thanks!
You may check on his previous article on V-Guard Electronic Voltage Stabilizer Restored
Likes
(

42

)
Dislikes
(

0

)