Restored A CCTV Power Supply With A Perfect Output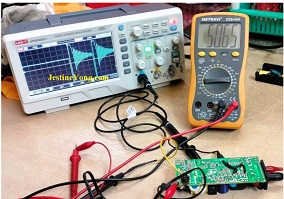 This Power Supply Adaptor was brought to me with the complaint that it was dead. This was one among the five power supplies brought by the guy who was in the business of CCTV installations.
He has done it in my home too. All of them were reported to be dead. On opening, I observed a bulgy capacitor, value of which was 120uF/400V.

As the burst capacitor had leaked the electrolyte all around, I cleaned the inside and outside very thoroughly using IPA as these can create problems. Then removed the cap. The fuse was found open. The bridge rectifier was also found short! After removing these, I did a ring test on the primary of SMPS transformer and found a healthy indication (i.e., all LEDs lit).
As the size of the 120uF cap that I had was larger, I used two 68uF/450V in parallel and fixed it on the board after drilling holes in a vacant place and wiring it on the other side taking care to provide heat shrink sleeves to avoid any arcing. Then replaced the 330uF/50V caps with 63V Caps in the secondary side and the 100uF/25V in the primary, while replacing the other defective components. Retouched the board wherever I found dry solder.

After this, I applied the power through a series bulb and got an output voltage reading of around 51VDC. I checked the wave form in my oscilloscope, by connecting the ground wire to hot section and just keeping the probe on top of the SMPS transformer, as advised by Jestine Yong in his world famous SMPS repair book.
The replacement of the 100uF/25V was important, because of its role in shaping the pulse. Mission accomplished and satisfaction found its way to the collection bag without any assistance from the Google GPS guiding lady! (LOL) Let us have a look at the concluding pictures:



This article was prepared for you by Parasuraman Subramanian from India. He is 72 years old and has more than 30 years' experience in handling antique equipment like Valve Radio, Amps, Reel Tape Recorders and currently studying latest tech-classes conducted by Kerala State Electronics Technicians' Association. He has done graduation in BBA degree, private diploma in Radio Engineering and retired as MD of a USA company. Presently working as Consultant to Hospital and other institutions.
Please give a support by clicking on the social buttons below. Your feedback on the post is welcome. Please leave it in the comments.
P.S-If you enjoyed reading this, click here to subscribe to my blog (free subscription). That way, you'll never miss a post. You can also forward this website link to your friends and colleagues-thanks!
You may check on his previous article on Shorted Cap In Scalar Board Caused No Display In SONY LED TV KLV-29P423D
Likes
(

55

)
Dislikes
(

1

)