Restored Fungus Spoiled ELECTRA Torch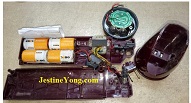 Though I do not take up Torches for repair generally, I do accept in selected cases when the customer is a very old person and dependent on such supporting devices as a part of the essential things kept around the bed. During night hours, a torch light besides the pillow, in a reachable distance is always a support for old people. This belonged to such an old person and I decided to set it right for him.
On opening the torch, I noticed that one of the charging wires was cut due to fungus attack. Dismantled the whole torch and cleaned all parts very well using IPA (Isopropyl Alcohol). Soldered the wire and did a dry solder patch up on the small PCB under the on/off switch.
The opening of this Torch is a bit complicated. There are two spring loaded pins on the hood, which we should shrink inserting long flat screw drivers on both sides. Then slide the hood out. Without taking the hood out, we cannot access the screw for opening the battery compartment. Then we have to remove the front glass and reflector for accessing the LED and its PCB.
There is a small step down transformer supplying the voltage for charging. The 230V AC is fed through two plug pins provided, that can be extracted after twisting the hood to one side.
I cleaned battery contacts and retouched the solder. Applied power and found that the battery was getting the charging voltage. Left it for charging for a few hours and checked whether the torch was working. Assembled the torch back, as it was found working. A few pictures are given below for those who might be interested. The Torch was given back to the customer, who was more than happy to have got his possession back in working condition! A double satisfaction thus jumped into its collection bag!


The green arrows show the screw slots and the blue one shows the spring loaded contact pins.

The Yellow Arrow shows the spring loaded locking pin. Red arrow shows the collapsible AC Pins.


This article was prepared for you by Parasuraman Subramanian from India. He is 69 years old and has more than 30 years' experience in handling antique equipment like Valve Radio, Amps, Reel Tape Recorders and currently studying latest tech-classes conducted by Kerala State Electronics Technicians' Association. He has done graduation in BBA degree, private diploma in Radio Engineering and retired as MD of a USA company. Presently working as Consultant to Hospital and other institutions.
Please give a support by clicking  on the social buttons below. Your feedback on the post is welcome. Please leave it in the comments.
P.S-If you enjoyed reading this, click here to subscribe to my blog (free subscription). That way, you'll never miss a post. You can also forward this website link to your friends and colleagues-thanks!
You may check on his previous repair article below:
https://jestineyong.com/bouyer-as30-power-amplifier-repair/
Likes
(

41

)
Dislikes
(

1

)