Restored Grundig SV2000 Amplifier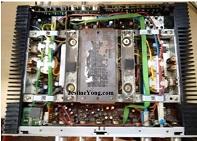 I got this Grundig SV2000 Amplifier with the complaint that it has crackling noises in all modes and one channel is weak. Confirmed  the complaint on pre-check-up.
On opening the set and visual inspection, I noticed that there were a few very flimsy resistors soldered, keeping it elevated on the boards, and if I use the blower, it surely will get bent and there is a possibility of these resistors 'falling in love' with the nearby component and 'kiss' each other!  See pictures of a couple of these from a visible portion of the PCB. There are a few more like that, which are in inaccessible area and hidden by other boards from easy view.

So, I cleaned the inside with soft, long bristled brushes only. Then observed that there were several dry solder spots such as these:


Noticed that the board has heavy coating of varnish on it. First thing is to remove it. Otherwise, the varnish will melt together with the lead and form bubbles, causing unseen dry solder inside! So, used denatured spirit, brushed the board thoroughly. Repeated it with turpentine and again with spirit. After third rubbing, most of the varnish coating got removed. Nevertheless, in some places, I had to desolder, clean and resolder the joints. Here is the view of the set after completion of the work:


Checked ESRs of capacitors at random. A few showed out of range. But decided to go after it, only if these are causing some problems. Switched on and the set was working very well on all modes, except tuner.  In the tuner mode, there were disturbances, possibly caused by some semiconductors, most probably PNP transistors (from my experience!). When the customer was informed about the progress made, he did not want the tuner mode and asked me not to bother! Here is the set working on final test:

After running the set on for several hours, closed the covers and retested it:

Another job completed, satisfactory to the customer, but not me! (Customers such as these are ardent users as well as traders of old and antique models and do not want overloading of service charges, lest they should never be able to sell or it may have to be sold at very low margins).

This article was prepared for you by Parasuraman Subramanian from India. He is 66 years old and has more than 30 years' experience in handling antiques equipment Valve Radio, Amps, Reel Tape Recorders and currently studying latest techs classes conduct by Kerala State Electronics Technicians' Association. He was a BBA graduate, retired as MD of a USA company.
Please give a support by clicking  on the social buttons below. Your feedback on the post is welcome. Please leave it in the comments.
P.S-If you enjoyed reading this, click here to subscribe to my blog (free subscription). That way, you'll never miss a post. You can also forward this website link to your friends and colleagues-thanks!
You may check on his previous repair article below:
https://www.jestineyong.com/restoring-mr-light-mr-680v6-emergency-light/
Likes
(

91

)
Dislikes
(

0

)