Restored Philips LED TV Fully Water Logged In Floods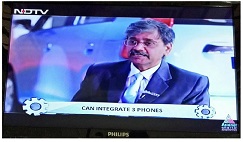 This LED TV was brought to me by a customer seeking whether it could be restored, after it got immersed in water due to floods that hit Kerala a few months back. As the TV was brought to me after drying it by the customer himself, keeping it in the sun for several days, and he did not switch on the TV under any circumstances, I accepted it for a trial. On opening the back cover, I could see a few dead insects that live in water, and there were full of filth from the dirty water. I cleaned the inside using blower and brush as much as I could, as it was dry.
After taking directions from my technician friends as to how to deal with such sets, as I had absolutely no such experience, I followed their instructions. I dismantled the set and looked for any damages. I could see that rust had formed in metal parts.



First I cleaned the boards thoroughly using IPA and brushed off the rust to the extent possible. Then used Hair Drier and heat dried the boards and panel several times. I also heat dried the Tcon Board. I repeated this every day for a few days. Looked for any trace of moisture and could not find any. Then once again cleaned the boards using IPA and dried. Touched up all dry solders. Replaced the rusted buttons on the front control board. Now you can a have look of the boards and panel:

Thoroughly cleaned and lubricated all connectors. Connected the boards back and switched on through Series Bulb.
Was happy to see the standby LED lit up! Pressed the power button and the panel was found working very well.

Connected a video input and was amazed to see that the TV had withstood the calamity! Perhaps Philips can use this for their advertisement! (LOL) Since the customer did not bring the Remote control inspite of telling him a few times, I left it. I may have to check it at the time of delivering the set, provided he brings it.



Another peculiar service finished satisfactorily and added to my ever increasing list!
PS: After writing this article, before sending it to Jestine Yong, I borrowed a new remote of the TV from my regular electronic shop, JM Electronics, Irinjalakuda and checked. It works. The picture you see is after testing it, as I replaced the original pictures with these.

This article was prepared for you by Parasuraman Subramanian from India. He is 69 years old and has more than 30 years' experience in handling antique equipment like Valve Radio, Amps, Reel Tape Recorders and currently studying latest tech-classes conducted by Kerala State Electronics Technicians' Association. He has done graduation in BBA degree, private diploma in Radio Engineering and retired as MD of a USA company. Presently working as Consultant to Hospital and other institutions.
Please give a support by clicking  on the social buttons below. Your feedback on the post is welcome. Please leave it in the comments.
P.S-If you enjoyed reading this, click here to subscribe to my blog (free subscription). That way, you'll never miss a post. You can also forward this website link to your friends and colleagues-thanks!
You may check on his previous repair article below:
https://jestineyong.com/repeated-failure-of-fbt-in-crt-tv-solved/
Likes
(

86

)
Dislikes
(

0

)