Restoring And Refurbishing Antique AHUJA ASE32B Tube Power Amp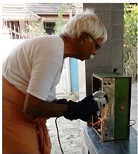 Make and Model: Ahuja Valve Public Address Amplifier model ASE32B owned by me.
Condition: Dead when collected from a friend as a gift. Lying unattended for a few years. Opening only now.
Troubleshooting, rectification and refurbishing done: Opened and cleaned the inside thoroughly. Replaced all electrolytic capacitors, worn out resistors and high voltage fixed capacitors. Resoldered all joints. Replaced one of the volume controls with a new one, by grinding the extra length of spindle. Replaced a defective ECC81 valve. Bypassed the External battery vibrator connection (Vibrator was missing in the Amp). Replaced the old speaker connectors with the spring loaded connectors. Replaced the old input connectors (grid and ground) with two RC sockets, internally isolating the two input signals with a 0.1uF/400V polyester capacitor to make it mono input. Provided two 12V DC SMPS Cooling fans for both the Power Valves, for which I connected a 12-0-12 Step down transformer, rectification and regulator circuit for providing 12V. Provided a fuse holder and fuse at the input (there was no fuse connection in the primary!) Replaced the two mike input connectors with inserting type sockets. Took the cabinet top cover to a Car Body painter known to me and got it thoroughly scraped and repainted. Cleaned the brass emblem to make it shine like new. Provided new knobs for the Amp. Provided new steel cabinet fixing screws.
Thus the refurbishing and reworking on the set was completed. Powered the Amp and found it to be working perfectly well with awesome performance! Thus a bulging satisfaction jumped into its collection bag proudly! (This is our main Amp connected to our Video and Audio systems in the house, with four speakers in the hall, with selectable twin speakers for each bed rooms such that the audio can be diverted to any or all the three bedrooms!)
Some pictures showing the inside out of the set and job done:







This article was prepared for you by Parasuraman Subramanian from India. He is 70 years old and has more than 30 years' experience in handling antique equipment like Valve Radio, Amps, Reel Tape Recorders and currently studying latest tech-classes conducted by Kerala State Electronics Technicians' Association. He has done graduation in BBA degree, private diploma in Radio Engineering and retired as MD of a USA company. Presently working as Consultant to Hospital and other institutions.
Please give a support by clicking on the social buttons below. Your feedback on the post is welcome. Please leave it in the comments.
P.S-If you enjoyed reading this, click here to subscribe to my blog (free subscription). That way, you'll never miss a post. You can also forward this website link to your friends and colleagues-thanks!
You may check on his previous repair article below:
https://jestineyong.com/transistor-failed-in-v-guard-stabilizer/
Likes
(

64

)
Dislikes
(

0

)