Restoring Two Antique SONY Tape Recorders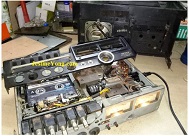 These two antique tape recorders belonged to my close friend and an erstwhile film music director. He was responsible for taking me to this level of servicing and clientele. He chanced to meet me through another common friend more than a decade ago. From then on, he turned me into a professional service technician from just a hobbyist. More than 50% of my customers are his references!

He himself is a regular feeder, having plenty of antique collections in his home! Thus I picked up these two from his home on my way back from hospital visit. Both had belt problems only. But TC-158SD had take-up problems too. I took TC-520S up first and opened the back cover, and the top cover, upon which, the inside was visible. This is the second time it is visiting. Kindly see my earlier article SMART WASP In Antique SONY Tape Recorder TC-520CS | Electronics Repair And Technology News (jestineyong.com) for more details of inside.
I changed the belts which were loose/cut. Tried and it was working perfectly well. The melodious output was so good that I felt like not giving it back to my friend! Anyhow, while delivering it back, I had put an application and let us wait and see.

Then opened the TC-158SD.

After replacing the belts, when I played a cassette, the take up wheel was not rotating properly. So I removed the wheel and changed its rubber. Even then it was not making proper contact with the gear, so I used a heat shrink sleeve and inserted it on the gear wheel, upon which it worked very well.
So, missions accomplished very well and double satisfaction got added to its collection bag!



This article was prepared for you by Parasuraman Subramanian from India. He is 72 years old and has more than 30 years' experience in handling antique equipment like Valve Radio, Amps, Reel Tape Recorders and currently studying latest tech-classes conducted by Kerala State Electronics Technicians' Association. He has done graduation in BBA degree, private diploma in Radio Engineering and retired as MD of a USA company. Presently working as Consultant to Hospital and other institutions.
Please give a support by clicking on the social buttons below. Your feedback on the post is welcome. Please leave it in the comments.
P.S-If you enjoyed reading this, click here to subscribe to my blog (free subscription). That way, you'll never miss a post. You can also forward this website link to your friends and colleagues-thanks!
You may check on his previous repair article below:
https://jestineyong.com/original-eight-pin-volume-control-replaced-in-pioneer-amp-model-no-sa610/
Likes
(

55

)
Dislikes
(

0

)