Review Of The Blue CCFL Tester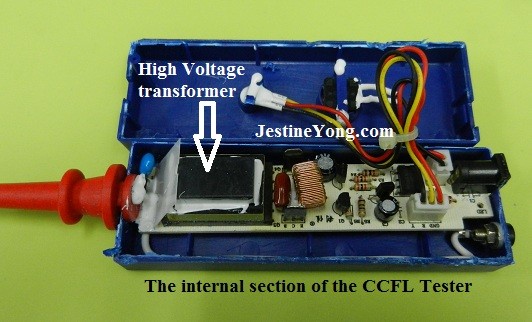 When I bought this Blue CCFL Tester (without any brand) about a month plus ago it does not have manual and box. Anyway it is quite straight forward to use this tester. For those who have bought this tester and have problem in using it then I hope this blog post could be a help to you. According to the seller webpage in EBay, this tester could test up to 1000mm backlight (about 39 inches backlight). This means this tester have no problem in testing the backlight of notebook, LCD Monitor or any other type of LCD panel that have less than 39" of backlight.
You need to know that when you order this tester it does not come with a power adapter. According to the spec, you need to use a 12 volt with 2 ampere DC adapter. If you have a 12 volt 3 ampere ac adapter you can use it too. Below are the photos with some explanation:







Note: Be extra careful with the high voltage.


Advantages of the CCFL Tester:
1) Compact/Light/ Handy design
2) Easy to use- Just power up the tester and measure across the two ends of the backlight. A good backlight will be very bright and a weak backlight will become reddish or does not light up at all.
3) Cheap price (about USD14 to USD15.99) including shipping
Disadvantages of the CCFL Tester:
1) You need to buy an external power ac adapter (12 volt 2 ampere) which can be costly. (Some power adapter could be more expensive than the CCFL tester itself)
2) It can't test if the backlight is slightly weak or dim unless if you have the two same type of backlights for comparison.
3) It can't test if the backlight has a very slight flickering problem
4) It can only measure up to 39" backlight. If you repair LCD TVs then this backlight tester is not suitable for you. Nowadays it is very common to have LCD TVs that is more than 42".
5) You may need to buy separate connector for different type of backlight connector
Note: If you order from Ebay.com, I suggest that you email the owner if you want the tester to reach your place fast and secure. Of course you have to pay for the additional shipping charge. If you do not wish to pay the extra fees and continue to use the free shipping then you need to wait about 15 to 30 days for it to arrive.
Special notice: I do not endorse that you should use this CCFL Tester nor I'm affiliated with any of the ebay seller. This Blue CCFL Tester is not in anyway associated with the Blue ESR and Blue Ring Tester by Anatekcorp. This is just a review based on my own opinion. If you think that you want to buy this tester, then you have to take your own responsibility. Just visit Ebay.com and key in backlight tester. You will see many types of backlight tester. If you need any info about the backlight tester you need to sign up at Ebay.com and from there you can contact the seller for alternative payment and mode of shipping.
If you have any question about this post please feel free to comment-thanks.
Jestine Yong
Likes
(

30

)
Dislikes
(

3

)