Revisit Of Toshiba LED TV Model 32PU200E1 After Three Years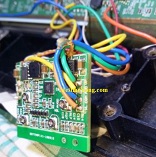 Those of you who have not seen my previous article dealing with fixing a booster board to bypass scalar IC CM501, may please read it using the following link, to get a continuity. https://jestineyong.com/scaler-board-ic-cm501-found-shorted-in-toshiba-led-tv/
This TV did a revisit in August, 2022, i.e., almost three years after satisfactory working. The complaint was like before, blue raster with no picture, but sound was ok. On opening and checking the set, I noticed that while the 12V was present the outputs of VGL, VGH, Vcom and AVDD were absent. First I thought it was due to any short within the panel, as this TV had developed a horizontal line in the middle.

According to my techie friends, it is due to a side cof issue, either a short there or loose contact, both could be solved only by a side cof bonding.
So, I disconnected all wires that go to the scalar board and checked the outputs. It still showed no output, which was a clear indication of the booster board failure.


The replacement board was not available in the market and though I tried it with a different board, which also worked on 12V input, the VGH/VGL was found getting loaded. It could either be a problem in the board or due to its insufficient ampere rating. Replacement board was not available in the market. As I had too many sets to be handled, I took the easy way out, i.e., going to my Techie Friend along with my extra load, one of which was this TV. My friend had a replacement board in his stock, which was an added advantage.
As the TV was already opened by me, he just rechecked my report and confirmed before replacing the board with a new one from his stock. As he had already wired and kept one ready adjusted to the desired output voltages for a 32" Panel, it was just a piece of cake for him. After checking, he inserted the board inside the front cover which fit there snugly. As for the line in the middle, he suggested a side cof bonding, cost of which was a bit high, which the customer did not want to spend on a TV that showed signs of old age and retirement. He opted for an exchange for new one, in case of another failure of this TV.
Here is his work finished and the result. (You can also have a view of his large working tables)


Satisfaction was just waiting to get clearance to jump into the collection bag!

This article was prepared for you by Parasuraman Subramanian from India. He is 72 years old and has more than 30 years' experience in handling antique equipment like Valve Radio, Amps, Reel Tape Recorders and currently studying latest tech-classes conducted by Kerala State Electronics Technicians' Association. He has done graduation in BBA degree, private diploma in Radio Engineering and retired as MD of a USA company. Presently working as Consultant to Hospital and other institutions.
Please give a support by clicking on the social buttons below. Your feedback on the post is welcome. Please leave it in the comments.
P.S-If you enjoyed reading this, click here to subscribe to my blog (free subscription). That way, you'll never miss a post. You can also forward this website link to your friends and colleagues-thanks!
You may check on his previous article on Failure Of A New Induction Cooker Board Resulted In Restoration Of Butterfly Model Premium
Likes
(

48

)
Dislikes
(

0

)