Revived An Antique AKAI Stereo Cassette Recorder AJ-500FS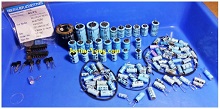 This Akai set was brought by my regular customer from a faraway place, much before he brought another six sets. The set was picked up by him from a house, where it was lying abandoned. He requested me to try my best to revive it. As usual, I opened the set and cleaned inside. There were no screws for the back cabinet and it was joined with tapes. Look at what fell off:

I dismantled the set completely. Then replaced every electrolytic capacitor found on the boards. I could also fetch the service manual of this set from the web. Akai AJ-500 Stereo Radio Cassette Recorder Manual | HiFi Engine (You may have to register with them to download the service manual) Then did a thorough dry solder patch up on all the boards.
This work alone took three rolls of solder wire!



On a trial by interconnecting the boards and power supply, I noticed that the LED graphic display was not proper. I replaced all the transistors on that board as these were found weak on checking. Then also it was not working. So fetched new ICs and replaced these, upon which the display worked properly. The belts of the tape section were changed as these had hardened and developed stiff shapes. I lubricated the mechanism very well and also all the connectors and controls.
The dual volume control was found replaced by the previous technician and fixed with an excellent modification done. As the knobs were stuck with Araldite to fit in the new VC, I could not restore its original, which had metal knurled shaft.

Then fixed the boards and mechanism back. Applied power and found it to be working just superfine. I also replaced the Tape Recorder head with ALPS Super Sendust Head as requested by the customer. The performance of Tape and Radio (inFM and AM bands) were superb. Unfortunately, the set was tampered very badly and modifications done on the board, which prevented me from bringing it back to its original conditions. Some coils were also found missing. Line in was altered. Some special features of mechanism, like searching and playing from start of any song in between etc. could not be restored due to this. The mechanism itself was not in a healthy condition due to wear and tear. But worked well on play, FF and REW. No recording was possible as it had been disabled previously.

This entire work took several hours, which extended to several days. I also provided long screws for fixing the back with front cover, which were also missing. But it was finished to the maximum satisfaction one could bring under the given conditions of the set. So, I can confidently say mission accomplished and it got added to my collection. Following is the picture of the defective components, which look like an all-time record!

Special notes: (1) Whenever you get such antique sets, try your best to do a thorough job and bring it back to life. (2) Persuade the customer to permit you to carry out a total restoration and its benefits. In this case, the customer knows my ways and allowed me full freedom to do what I feel was good. (3) Elec. Capacitors might look ok from the top. But might have leaked at the bottom. So it is always better to replace all of them. (4) Always keep our mind open to appreciate and absorb others work (In this case the fixing of a replacement volume control by an unknown technician) and most importantly communicate this to the customer.
(5) Take photos and videos of each stage and steps. Pick and share some of these with the customers so that he knows what we are doing. When we take the customer along with our efforts to set right his device, there won't be a twisting of the eye brow at the time of payment. In all probability, he would be ready to pay more! (6) Never compromise quality of work and never try to earn through short-cut methods. Remember our success and acceptance of customer, depends on our quality of work and not on quantity of work.

This article was prepared for you by Parasuraman Subramanian from India. He is 72 years old and has more than 30 years' experience in handling antique equipment like Valve Radio, Amps, Reel Tape Recorders and currently studying latest tech-classes conducted by Kerala State Electronics Technicians' Association. He has done graduation in BBA degree, private diploma in Radio Engineering and retired as MD of a USA company. Presently working as Consultant to Hospital and other institutions.
Please give a support by clicking on the social buttons below. Your feedback on the post is welcome. Please leave it in the comments.
P.S-If you enjoyed reading this, click here to subscribe to my blog (free subscription). That way, you'll never miss a post. You can also forward this website link to your friends and colleagues-thanks!
You may check on his previous article on Dropped Value And Burst Capacitors Found In Impex DVD Player Prime HD
Likes
(

67

)
Dislikes
(

0

)