Revived Antique Tape Recorder Ferguson FTR-100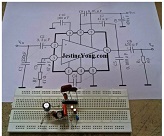 This tape recorder was brought to me by my techie friend, who tried his best to revive. The complaint was no sound output, even though the tape mechanism worked very well in all the modes! It belonged to the father of a customer, who wanted to reuse it in fond memories. Evidently this was lying somewhere unused for many years. What attracted me was the condition of the Tape Recorder. There was not a single scratch on it! It might have been either used very carefully or never used after it was bought by that father!
I removed the Tape from it and pressed the play button and applied audio signal to the point where the head is connected and then at the volume control hot point. But absolutely no sound. Checked the speaker and found it to be ok. Downloaded the datasheet of CD7313 and TA7313 and checked again giving signal at the input pin, with the same result! I even removed the capacitor from the input and tried. But no sound still! Anyhow, since my friend had done the preliminary troubleshooting and even changed the IC CD7313 to TA7313, my next method was to remove the TA7313 and check both ICs for its function.
I made a test circuit as per following diagram using the breadboard and tested both ICS by injecting audio signal. Both were found to be perfectly working:



After having ensured that both ICs were perfectly working, turned my attention to the board. As the ESR of most of the capacitors were out, I disconnected all the wires from the board and took it out. I replaced all the electrolytic capacitors on the board, which has become more or less my most favourite work! Then after re-soldering the CD7313, inserted a headphone and I applied power from its adapter and touched the input point at the head level and got a 'burrrr' sound, indicating that the board was getting back its life. Then re-soldered all the points including the many SMD components, some of which just moved away when I applied heat, indicating that these were in such bad condition. After finishing that when I applied signal at the input, it worked very well.
Then reconnected the head input, mic, speaker and motor wires. Cleaned the head and pinch roller using IPA. Then loaded the cassette after doing a full rewind and fast forward. This was to ensure that the fungus/oxidized formations on the tape were cleaned by the brush built within. Then I played a standard cassette and aligned the head for peak but distortion free sound output. Then I played the cassette that came with the set and it worked very well fully; both A and B sides. After ensuring that it worked very well for a few hours, fixed the PCB screws and back cover and called my friend to come and collect. Some pictures:


Mission accomplished and satisfaction got collected with a lot of excitement too!

This article was prepared for you by Parasuraman Subramanian from India. He is 70 years old and has more than 30 years' experience in handling antique equipment like Valve Radio, Amps, Reel Tape Recorders and currently studying latest tech-classes conducted by Kerala State Electronics Technicians' Association. He has done graduation in BBA degree, private diploma in Radio Engineering and retired as MD of a USA company. Presently working as Consultant to Hospital and other institutions.
Please give a support by clicking on the social buttons below. Your feedback on the post is welcome. Please leave it in the comments.
P.S-If you enjoyed reading this, click here to subscribe to my blog (free subscription). That way, you'll never miss a post. You can also forward this website link to your friends and colleagues-thanks!
You may check on his previous repair article below:
https://jestineyong.com/bad-adapter-caused-malfunctioning-of-blue-tooth-usb-fm-player/
Likes
(

58

)
Dislikes
(

0

)