Rusted And Corroded Crystal Oscillators Found In Cambridge Audio AZUR-540C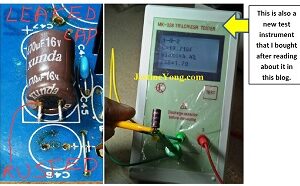 I request you all to view this link, which gives a history of this set: Toroidal Transformer Failed In Cambridge DVD Player | Electronics Repair And Technology News (jestineyong.com) As many images of the set were already given, I am providing only those which are related to this article.
After the visit in October, 2019, this DVD player visited me again in October, 2022 with the complaint that it was dead (No display). [Looks like this DVD player's birth month is October (LOL)] The customer had got it checked locally and found that the power supply was working, but system did not respond.
I opened the set and rechecked and confirmed that the power supply was ok. I dismantled the board and opened the black cover that housed the system control ICs. I also saw a dead insect inside, which probably did not cause any damage to the board.

Now look at what I saw inside:

One leg of 16.9344 and both legs of 7.372 crystals were rusted and broken! This is the result of the gum used to fix it on the board, which is a common fault in many sets.
As my search for these crystals did not yield any fruitful result, I ventured to solder wires on the broken legs. I cleaned the area thoroughly and also cleaned the broken tips and applied flux. I used the following new addition to my workshop, a new OSS Team T-12X soldering station with five additional tips of different types:

Using its BLS Tip, which is very sharp and setting the temperature to 350◦C, I used a thin jumper wire and soldered it effectively on all the three pins! Then stuck the 16.9344 crystal flat on the board and soldered the wires on the other side. For the other one leg broken crystal, I soldered one leg on the board and soldered the wire on the other side.

I checked the electrolytic capacitors and found these to be in bad conditions. Look at one that I removed to inspect (another victim of glue getting hardened and causing rust) and a sample reading:

Went ahead with my most interesting hobby of replacing all the electrolytic capacitors, the front panel switches and also a strained strip wire after a dry-solder patch up. Then after cleaning the board and having satisfied with all the required rectification work done, connected the boards and tested and was very glad to see the DVD working very well! For the purpose of this test, I kept the cabinet on its side and gave all connections keeping the boards and CD tray on the table.

This is also a new test instrument that I bought after reading about it in this blog.
Fit the DVD back on its case and again subjected it to testing with various CDs playing it fully. I found that the player was showing very clear display and the output was also very healthy and pleasing. Then fit it back and kept it ready for pick up by customer, who is staying almost around 100 Kms away from my place.

Mission accomplished and great satisfaction got added to its collection.
Here is a picture of the defective components:

PS: I had also opened and cleaned the remote control, as some of the buttons were not working. Unfortunately I forgot to click snaps!

This article was prepared for you by Parasuraman Subramanian from India. He is 72 years old and has more than 30 years' experience in handling antique equipment like Valve Radio, Amps, Reel Tape Recorders and currently studying latest tech-classes conducted by Kerala State Electronics Technicians' Association. He has done graduation in BBA degree, private diploma in Radio Engineering and retired as MD of a USA company. Presently working as Consultant to Hospital and other institutions.
Please give a support by clicking on the social buttons below. Your feedback on the post is welcome. Please leave it in the comments.
P.S-If you enjoyed reading this, click here to subscribe to my blog (free subscription). That way, you'll never miss a post. You can also forward this website link to your friends and colleagues-thanks!
You may check on his previous article on Just Replacement Of Hall Sensor Belt Solved Running Problems In BIC Cassette Deck T-1
Likes
(

50

)
Dislikes
(

0

)