Rusted Transistor Caused Numeric Computer UPS To Become Dead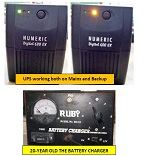 Since this UPS has successive followers like a Monitor, then a computer, I am shifting back to my old style of narration of the story. This UPS belongs to the same person who brought a Sony LCD TV for service a few weeks back. As he was very much satisfied with that, he opted to have this UPS as well as an LCD Computer Monitor serviced. So, when he came to take my consent for bringing, I had told him to bring the VGA cable also along with the monitor. But he accidentally broke off the VGA female connector of the Computer Mother Board, which got plucked off along with the Male connector that comes from the Monitor! What a sad thing to happen! When I noticed one piece hanging on the VGA cable, I told him that he might have to bring the computer also, once I finished setting the UPS and Monitor up. That is how I took up service of the UPS first.
On opening the set, I could not see much dust or dirt, except what is normally collected during storage without use for a long time. I removed the 12V, 7AH battery and left it for charging on my Battery Charger. After it got fully charged, I connected it to the UPS, as the circuit would not function without its Battery Power Supply. Then switched on the UPS, but nothing happened. Usually, it should give a beep and after a few seconds the relay would operate to allow the power to pass to the outlets. So, I disconnected the battery and checked the on/off switch. It was found defective as it made no contacts on both sides, i.e., when you push it in, it should switch on the UPS for operation, and when you switch it off, it should cut off the output and allow only charging the battery from the AC Mains. I removed the switch and tried applying cleaning oil and moved the switch on/off several times, hoping to clean any dirt formation. But it did not work properly. Then I opened the switch and found that the contacts had worn out and nothing could be done to restore it. So, shorted the contacts manually soldering two wires between the poles and ways. But nothing happened. No Beep, no LED light! Then I knew that something else was also wrong. After disconnecting the battery, I closely examined the board from the component side, as there was not a single dry solder or strained joint on the board. Noticed that leg of one transistor (2N2907A) was rusted. Removed it and replaced with CK100 as I was not having 2907 with me.
Then when I connected the battery, the UPS started working both on AC mains directly and from the battery when we switch off the mains. In order not to spoil the aesthetic look of the front panel, drilled a hole at the rear and wired it neatly from the front side to rear side. I left the old switch on its original place, by cutting off its legs so that the front button will remain in its position properly, because the switch was loaded with a spring to remain expanded that pushed the knob out. Steps followed by me to provide a new switch at the rear: A) Measured the diameter of the on/off switch with Vernier Caliper. B) Selected a drill bit that is slightly less. C) Drilled a hole at the rear point such that it is easy to reach from the front. D) Screwed in the switch to ensure that it is held tight and tightened it further by the nut from front. E) Fixed the switch in such a way that for switching it on/off, the user can access it easily from the front side and move it horizontally; i.e., pull to switch it on and push to switch it off. Whenever we do modifications, we have to put ourselves in the customer's shoes and do it and make it very user friendly.
After checking and ensuring that there were no other defective or rusted components on the board, assembled it back and left it for charging. Mission accomplished and satisfaction got added to its collection bag!
HERE ARE A FEW PICTURES:





This article was prepared for you by Parasuraman Subramanian from India. He is 70 years old and has more than 30 years' experience in handling antique equipment like Valve Radio, Amps, Reel Tape Recorders and currently studying latest tech-classes conducted by Kerala State Electronics Technicians' Association. He has done graduation in BBA degree, private diploma in Radio Engineering and retired as MD of a USA company. Presently working as Consultant to Hospital and other institutions.
Please give a support by clicking on the social buttons below. Your feedback on the post is welcome. Please leave it in the comments.
P.S-If you enjoyed reading this, click here to subscribe to my blog (free subscription). That way, you'll never miss a post. You can also forward this website link to your friends and colleagues-thanks!
You may check on his previous repair article below:
https://jestineyong.com/capacitors-found-bulged-in-enhance-smps/
Likes
(

55

)
Dislikes
(

0

)