Safe Soldering Iron Stand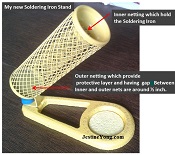 Since the last 20 years I have been using the old design spiral coil type soldering iron stand and many times I have damaged the soldering iron power cable.
Other type of cable and other material which accidentally comes in the contact with this type of soldering iron stand were also damaged.

Gap between  coil can easily damage any wire which comes in contact.
So I decided to buy some good and safer soldering iron stand from our local electronics market to make my working environment safer. The electronics center that I went was called LAMINGTON ROAD at GRANT ROAD STATION in Mumbai and it was about 40Km away from my place.
It took me many hours to shop around the market for electronics tools. I eventually bought solder wire, small nose pliers, latest soldering iron stand and contactless AC live wire detector.

CONTACTLESS AC LIVE WIRE DETECTOR
It can sense 90V- 1000V AC and give Beep and Light indication on live wire detection. You can check on the below link how this small little tool can be useful:
https://www.jestineyong.com/genius-way-to-check-broken-wire-in-cable/

Now see how it protects accidental contacts of wire in the below photo:

My personal opinion to all the technicians please invest in good tools and equipment which can make your repair job faster, safer and comfortable.

This article was prepared for you by Yogesh Panchal who works as a Computer Hardware Engineer in Mumbai India.
Please give a support by clicking on the social buttons below. Your feedback on the post is welcome. Please leave it in the comments.
P.S- Do you know of any your friends who would benefit from this content that you are reading now? If so, forward this website to your friends or you can invite your friends to subscribe to my newsletter for free in this Link.
Note: You can check out his previous repair article in the below link:
https://www.jestineyong.com/epson-lx-300-printer-repair/
Likes
(

106

)
Dislikes
(

1

)