No Power In Samsung LCD TV Repaired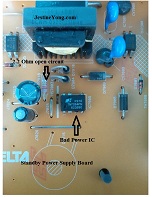 One of the clients in my company called me to check on his 65" Samsung LCD TV and the complaint was no power. I went to his villa and tested the LCD TV and the problem was indeed "no power". The challenge that I had was about removing the LCD TV from the wall. I managed to remove it and placed it on a soft surface. After that I removed all the screws and successfully opened the back cover.
The first component that I have checked was the main fuse and it was tested good. I further checked the main filter capacitor and there was 300VDC.
I continued to check on the standby power supply area and found a resistor 2.2 Ohm open circuit. This resistor was connected to the source pin of the TNY264PN IC (8 pins). All corresponding components were checked to be good. Since I do not have this part number I have used another part number TNY266PN.  TNY266PN has higher specification than TNY264PN- see the below picture:

After the replacement of the resistor and the power IC the LCD TV was brought back to life again.
This article is contributed by Fernando Frias from Abu Dhabi UAE. He is currently working in a Technologies company as a technician.
Please give a support by clicking  on the social buttons below. Your feedback on the post is welcome. Please leave it in the comments.
P.S- Do you know of any your friends who would benefit from this content that you are reading now? If so, forward this website to your friends or you can invite your friends to subscribe to my newsletter for free in this Link.
If you want to know the basic of LCD TV please click on the below link:
http://electronicrepairguide.com/lcd-tv-repair-basic.html
Likes
(

358

)
Dislikes
(

2

)