Samsung Monitor Sync Master B2030 Repaired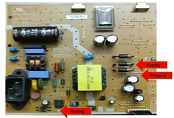 My friend Vijander brought me his Samsung Monitor Sync Master B2030 stating that it is not coming on. He also told me that for long time this monitor was not used and it was kept in the store.
I checked it and found that Power ON LED is not coming on. I understood that the problem is in the power supply circuit. Dismantling the monitor was easy. I physically checked and found that due to corrosion some of the components got rust and the LVDS cable has also gone faulty due to this.


After removing the LVDS cable and other connected cables from the Power supply board, I switched on the Power Supply board to check if the 5 volt and 15 Volts are OK or not.
I also observed that the LVDS cable's connection points were corroded and broken. But first I focused on Power supply.

There was no output from power supply while the input AC voltage was fine. Voltage was also fine at main filter capacitor. Then I checked the voltage at the Pin 1 of Optocoupler 817C. Found it was fluctuating between 2 to 2.16 volts which is vary less. I also checked the output capacitors of 1000 uf and 470 uf. All were showing high ESR. From here I was sure that capacitors are having problem.
I replaced the output capacitors and for safer side I replaced the Optocoupler also. After replacing these components I checked the output voltages, and found that 5 Volt and 15 Volt were coming now and stable.
I also replaced the LVDS cable with the new Cable and reassembled the monitor.


Now you can see the monitor is coming on and power on LED (Blue) is also coming on.
Problem solved.
Cheers……………!!!

This article was prepared by Kishan Singh Rawat, a Telecom engineer and electronic enthusiast with more than 35 years of experience in Telecom / Broadcasting industry, residing in Delhi, India. Presently working as AVP in renowned News Broadcasting Company of India.
Please give a support by clicking on the social buttons below. Your feedback on the post is welcome. Please leave it in the comments.
P.S-If you enjoyed reading this, click here to subscribe to my blog (free subscription). That way, you'll never miss a post. You can also forward this website link to your friends and colleagues-thanks!
You may check on his previous repair article below:
https://jestineyong.com/paper-shredder-s421-not-working-repaired/
Likes
(

68

)
Dislikes
(

0

)