How To Repair Samsung Plasma TV Won't Turn On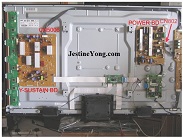 This 51 inch Samsung plasma TV problems with the model: no PS51E450 /chassis –F5AA was won't turn on and always in standby mode.

Photo 1
I normally start troubleshooting the power supply board (BN44-00509) first for any abnormality. The connector CN802 (photo 1) was disconnected and all the output voltages on the connector pins were measured. The VS and VA voltages were found to be missing.
On visual inspection on the board, I found the high voltage capacitor CS809 has burnt mark on one of the lead as shown in photo 2. The capacitor was de-solder for confirmation. It was  found to be open circuit.

Photo 2
After changing the capacitor, the voltage of VS and VA rises to around 200V and 58V respectively. This confirmed that the power supply is working normal so I reconnect the connector CN802. With the power on VS and VA re-measured again, the voltage is returned to zero again. I suspect the Y-sustain was faulty, when CN5006 was disconnected the voltages of VS and VA is back to normal. The TV can be activated now and the TV sound channel can be heard.
Visual inspection of the Y-sustain board (LJ41-10181A/LJ92-01880A) , there was sign of overheating around Q5037 see photo 3.and 4

Photo 3- Y sustain board

Photo 4-Close up view of Y-sustain board top and bottom burnt mark area location.
This burnt mark on the pcb provide a very good  indication of overheating and maybe defective components. All the power devices around the pcb burnt mark  were checked with a multi-meter and  as expected the following components were found to be shorted:
Q5037-K10A500 (MOSFET)
Q5030-SMK630 (MOSFET)
Q5003-FGPG4536 (IGBT)
D5005-SF10A400H (FAST RECOVERY RECTIFIER)
After changing all the above mentioned  defective components, the TV set come alive when power is turn  on.

Although the video looks normal, it is advisable to reconfirm  and calibrate the settings if necessary  for the power and Y-sustain board to avoid overloading the panel. The test points for Vs, Va ,Vsc and Ve are clearly marked on the boards and the voltages can be calibrated with a multi-meter with reference to the manufacturer printed label on the panel (photo 5). Samsung alignment are quite straight forward and does not require an oscilloscope as compare with LG.

Photo 5-Voltages recommended by the panel manufacturer
Another Plasma TV not turning on has been successfully repaired.

This article was prepared for you by SK Wong from Malaysia and he graduated from London with a degree in Electronics and Electrical Engineering. He has more than 40 years of experience in the consumer product manufacturing. With the passion to repair electronic products from young , he has been doing it part time until now.
Currently, he can provide turnkey solutions for consumer products including services from idea or concept to design , prototyping , finished products (including electronic,mechanical and plastic parts) and manufacturing.
Please give a support by clicking on the social buttons below. Your feedback on the post is welcome. Please leave it in the comments.
P.S-  If you enjoyed reading this, click here to subscribe to my blog (free subscription). That way, you'll never miss a post. You can also forward this website link to your friends and colleagues-thanks!
Note: You can check his previous repair articles below:
https://jestineyong.com/no-power-in-philips-lcd-tv-repaired/
https://jestineyong.com/lg-plasma-tv-unable-to-turn-on-repaired/
Likes
(

171

)
Dislikes
(

3

)