Samsung Vacuum Cleaner Repaired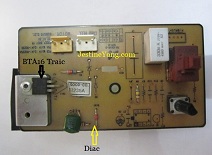 The problem of this vacuum cleaner was intermittent problem. Sometimes the motor could work and sometimes don't. It consists of only one circuit board and there were not many components on it.

Among all the components that I have checked (after turning off the vacuum cleaner) I found the TRIAC was the hottest. This is why the Samsung company installed a big heat sink to keep the TRIAC cool (to dissipate heat).
There were no dry joints in the circuit board so the Triac was my first suspect.


Note: Triacs actually works more or less like SCRs and acts like switches in the AC circuits and let currents goes in any two directions.
I asked myself this question "Could this Triac gives intermittent problem after serving for 5 to 7 years?"

Since the problem was intermittent I directly replace the TRIAC and retest. Guess what? The result was amazing and no longer has shutting down problem.  This means the Triac was breaking down when under load. If the problem still persists the next component that I want to check/direct replace would be the DIAC.
Note: A good Diac should show no reading when under x 10 K ohm test either way. For more information you can check on the link  below:
https://www.jestineyong.com/have-you-seen-a-diac-before/
Hope this article is useful to the owner of this kind of vacuum cleaner .

This article was prepared for you by Mr Beh, one of our 'Master Authors' from Iran.
Please give a support by clicking  on the social buttons below. Your feedback on the post is welcome. Please leave it in the comments.
By the way if you have any good repair article that you want me to publish in this blog please do contact me HERE.
Likes
(

144

)
Dislikes
(

1

)