Samtec Active Sound Speaker Repair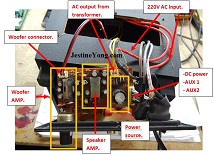 Hi,
Today I got a Samtec active sound speaker system to repair from one of my customer. The main reason was the sound system would not power on.
Actually there is some noise but the unit is not powered on even if the noise is there. Here is the unit:

I took the back panel down which is bolted on with six bolt's. After that I saw this:


I can say, I'm not impressed with this unit. All around are messed up with some sticky stuff and the pcb are very low quality, the connectors are bonded together with some sort of glue etc.
A really pain in the …
Let's see closer the pcb:

What the hack is this alien stuff on the soldering side of the connector???

The whole connector is broken. The factory where this unit was made they destroyed the soldering pads for the connector. Then they tried to solder somehow the connector just for testing purpose. Then they took some sort of glue and made that alien stuff.
On this unit, there are no one soldering pad are fine, all around are unsoldered or broken pads. I had to resolder many of them and of course made the connection with the wires and the connector.
Here is how I made all that connection again, but I eliminated the connector.

After this hacking, digging, scratching etc. the unit powered on and played my favorite songs for a while. But here is the most important label on the unit:

I hope you would never get for repairing purpose this unit, even if you wish to buy this crap please don't do that. I saved this junk from junk because of the environmental ethic in me but this is really for recycling only…
I hope you enjoy this tutorial and will save lot of repair time.

This article was prepared for you by Christian Robert Adzic from Novi Knezevac-Serbia.
Please give a support by clicking  on the social buttons below. Your feedback on the post is welcome. Please leave it in the comments.
P.S-  If you enjoyed reading this, click here to subscribe to my blog (free subscription). That way, you'll never miss a post. You can also forward this website link to your friends and colleagues-thanks!
Note: You can check his previous post in the below link:
https://jestineyong.com/how-to-use-batteries-from-different-gsm-phones-on-each-other/
Likes
(

97

)
Dislikes
(

0

)