Saving Computer ATX SMPS Power Supplies – PART 1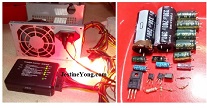 This is a series of articles covering Computer SMPS services that I do free for the hospital where I work. My intentions are to bring an awareness of saving these devices that are usually thrown away and replaced by now cheaply available SMPS units. I will be minimizing the pictures to bring brevity of this article. Some solutions might be of same type or similar to problems reported earlier in my articles. But it might help those who have come to this field recently and are meant for beginners.
1) SuperComp SEP500 : Found capacitors burst and 330/200V Caps dried. Ring testing showed shorts. After combing the board, I found switching transistor, driver transistors, resistors and diodes short. After removing these shorted parts, ring testing showed healthy.

So replaced these components along with all other capacitors on the board as usual. I also replaced the opto coupler and TL431 to be on the safe side, as these are very cheap components and might fail on load.
After doing a thorough retouch of the board and cleaning with IPA, when I applied power, load of 12V 25W Bulb, I found the SMPS working very well!

2) Another SuperComp SEP500:
In this I saw two caps burst in the secondary with the cans lying outside. On checking with the ring tester, the circuits were found healthy. Replaced all the electrolytic capacitors as usual as the tank capacitors were found dried up.

Did a thorough retouching of the board and lubricated the fan for smooth function. Tested like before and found the SMPS working satisfactorily.

Well, satisfactions got collected as usual, especially when the IT Administrator colleague was happy to get back these standby SMPS for his emergency backup support!
Let me tell you that the hospital has brought down its purchase of computer SMPS from almost one or two per month to one or two per year! That is the result of the restoration work being done without feeling boredom!

This article was prepared for you by Parasuraman Subramanian from India. He is 72 years old and has more than 30 years' experience in handling antique equipment like Valve Radio, Amps, Reel Tape Recorders and currently studying latest tech-classes conducted by Kerala State Electronics Technicians' Association. He has done graduation in BBA degree, private diploma in Radio Engineering and retired as MD of a USA company. Presently working as Consultant to Hospital and other institutions.
Please give a support by clicking on the social buttons below. Your feedback on the post is welcome. Please leave it in the comments.
P.S-If you enjoyed reading this, click here to subscribe to my blog (free subscription). That way, you'll never miss a post. You can also forward this website link to your friends and colleagues-thanks!
You may check on his previous article on Futile Attempts To Resolve Double Image In Videocon LED TV V3218 Resulted In Panel Replacement
Likes
(

51

)
Dislikes
(

0

)