SEAGATE Barracuda 80 GBytes HDD Repaired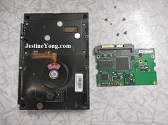 This ASUS PC was brought to me and the complaint was the Windows OS was not loading anyway.
Ah! I forgot saying this OS (Operating System) had been re-installed recently.

When the lateral cover was taken out (only two screws) and a visual inspection was done, it was decided to extract the HDD; it was a SEAGATE Barracuda of 80 GBytes.

In this case the circuitry was taken out.

Let's have a look at the PCB of this HDD with the photos below.

But now let's have a closer look of the electronics.

As you can see in the photos above there were great deals of dirty and cold solder joints, very critical in my own opinion. All of them were restored with fresh tin. In addition the golden contacts were cleaned with a pencil eraser too.

Did you stare at my pencil eraser? It's wasted a lot, due to the use. The HDD was armed and attached into the slot of the PC.

Now the PC was turned on and look at the results.

As you can see the OS really loaded perfectly. But the PC was turned off and restarted many times to make some probes, and the result was always  satisfactory.
Mission accomplished: another HDD saved from the junk.
Note: the most important thing saved in this device was the valuable information stored in the partition named as D.

This article was prepared for you by Humberto Rodriguez, one of our 'Master Authors' from Cuba.
Please give a support by clicking  on the social buttons below. Your feedback on the post is welcome. Please leave it in the comments.
P.S-  If you enjoyed reading this, click here to subscribe to my blog (free subscription). That way, you'll never miss a post. You can also forward this website link to your friends and colleagues-thanks!
Note: You may check his previous repair article in the below link:
https://www.jestineyong.com/asus-pc-repair/
Likes
(

120

)
Dislikes
(

0

)