Servicing Chinese Retro Lantern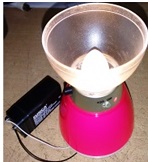 I may have to share with you all about another hobby of buying various utility items which are normally available in the local market. I buy these online from Mumbai and Delhi and keep these in stock in my home, for resale to my close friends, relatives and other contacts. I keep only very low margin on these products, and most of the revenue earned by me, goes for charities. One of the products that I recently bought was a Chinese Retro Lantern, which comes on when we blow into the chimney and goes off when we do it again!
The brightness can be adjusted by a potentiometer. The lamp looks like the nostalgic kerosene lamps used in the olden days, which had an egg shaped bottom, with a thread raising screw to increase the brightness and vice versa. Have a look at this lamp:

Out of the four lamps bought for the first time, one lamp was not working. Being low cost products, there is no warranty offered to these. Since sending it back for a replacement was uneconomical because of high courier charges, I took it up for service. Now, here is when the problem started! How to open this? The top portion of the chimney can be taken out. But there were no screws to be seen anywhere from outside! I removed the rubber cushion at the bottom, hoping to find screws hidden under it!  None! I tried prying, unscrewing while looking at all possible places! Since I did not want to spoil the lamp, I continued my efforts giving it a break, and sharing my problem with my technician friends through Whatsapp!
None could offer me any clue, as the product itself was new to them! So I started forcibly turning the bottom portion and upper red portion of the lamp by hand, and noticed that the upper red portion was rotating when force was applied. So, I concentrated at the middle portion, and started slowly prying there. Suddenly, I could force my knife in and one portion slightly opened up. Slowly and carefully, I detached other portions also, and the bottom came off! These were stuck together with some gum! Then I slowly dismantled the lamp one  after another. Here are the pictures: [Further explanation of the construction of the lamp follows]

The lamp was assembled like this:  The 3 LEDs were fit on top (See second picture), under the upper acrylic base for the chimney. This base is screwed from the other side, which can be seen only when we remove two holding screw and take the PCB out. Please see the third picture above. The PCB is placed by inserting the pot knob and on/off sliding switch to its position in an angle, and the microphone in its slot, corresponding to which, there is a hole from the top for picking up sound (This is a sound activated device, and the blowing in/out is a marketing gimmick! How clever!) Please see fourth picture above. The fifth picture above is the hood, under which the LEDs can be seen. Here are a few more pictures of the PCB and the angle in which it is to be inserted:


It is a double sided PCB, with an IC fit on one side and other components at the bottom! The last picture above shows the white inner cover, on which the red outer was rotating as mentioned earlier.  This portion is fit to the top portion by two screws.
The battery was of a special type similar to the ones found in mobile phones. Since the charging voltage, when connected to a 5V (through a USB cable that comes with the lamp), was 4.7V, I guessed that it could be 4.5V.

As this battery was not available locally here, I bought a 4V battery of almost similar length and connected it to test the lamp. It worked perfectly well!

So, I inserted the battery at the bottom, fixed it with a double sided tape, and assembled the lamp back to its original shape. So Aladdin's Magic Lamp was back in action! (LOL):


This article was prepared for you by Parasuraman Subramanian from India. He is 66 years old and has more than 30 years' experience in handling antiques equipment Valve Radio, Amps, Reel Tape Recorders and currently studying latest techs classes conduct by Kerala State Electronics Technicians' Association. He was a BBA graduate, retired as MD of a USA company.
Please give a support by clicking  on the social buttons below. Your feedback on the post is welcome. Please leave it in the comments.
P.S-If you enjoyed reading this, click here to subscribe to my blog (free subscription). That way, you'll never miss a post. You can also forward this website link to your friends and colleagues-thanks!
You may check on his previous repair article below:
https://jestineyong.com/servicing-pioneer-tx-520-tuner/
Likes
(

53

)
Dislikes
(

0

)