Servicing CRT TV Mainboard With China Kit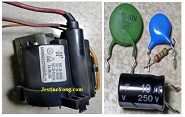 This is a JVC CRT TV, which was repaired by me in October, 2014 by replacing the main board with China Kit, as the Main Board became beyond repair due to lightning damages. After that, this had visited me in July 2016, with the complaint of arcing at anode, which was cleaned by me and given back.  This CRT TV was brought to me again recently with the same complaint of arcing. Since Kerala has more monsoons, collecting moisture around the anode area is very common, especially when customers keep the TV near windows.
The customer brought the set after taking a prior appointment so that he could help me transfer the TV to work table after cleaning, due to my personal restrictions in carrying heavy things around, after recovery from a lumbar sprain. I noticed that the wire connecting to CRT anode was punctured. This is what will happen, if the customers continue to use the TV in spite of hearing arcing noises and disturbances in the picture. There was fungus growth on the other two wires as well, that go to the CRT PCB.

As the puncture was a little below the cap, I had no alternative but to suggest a replacement of the LOT (FBT), which the customer agreed. You can see its number in the next picture above. I also noticed that the PTC was broken and there were dark spots on the board near one capacitor and another resistor, that are connected between SMPS hot ground and cold ground. Please see the next pictures above.
Removed the FBT and replaced it with an exactly matching new one. Looked for and rectified a few dry joints in the board. Checked ESR of all capacitors and replaced just one 10mfd/250V located in the high voltage output area of the FBT. Replaced the capacitor and resistor, which showed signs of strain, as mentioned earlier.

Fit the board on the TV and checked and found it to be working.

I was happy on two counts; I could continue my favorite servicing on CRT TVs, and another that the customer was ready to render aid in carrying this TV around. In fact, I am thankful to him for this gesture. After this, I had undertaken service of two more CRT TVs, with the same type of gestures from the customers. My gratitude to all those who come to this extent in getting their sets serviced by me, in spite of the fact that there are many technicians around this place, who render home service! It is always a great satisfaction and encouragement when we know customers do recognize quality in service, and not just care for money and convenience!

This article was prepared for you by Parasuraman Subramanian from India. He is 68 years old and has more than 30 years' experience in handling antique equipment like Valve Radio, Amps, Reel Tape Recorders and currently studying latest tech-classes conducted by Kerala State Electronics Technicians' Association. He has done  graduation in BBA degree, private diploma in Radio Engineering and retired as MD of a USA company. Presently working as Consultant to Hospital and other institutions.
Please give a support by clicking  on the social buttons below. Your feedback on the post is welcome. Please leave it in the comments.
P.S-If you enjoyed reading this, click here to subscribe to my blog (free subscription). That way, you'll never miss a post. You can also forward this website link to your friends and colleagues-thanks!
You may check on his previous repair article below:
https://jestineyong.com/servicing-audiosource-amplifier/
Likes
(

88

)
Dislikes
(

0

)