Servicing Fairmate CS650 Tape Recorder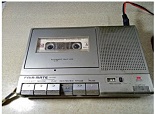 This tape recorder was brought to me with the complaint that it is intermittent and dragging. After the routine work of opening and cleaning the inner side, checked the whole set visually. Found that the belts were loose and replaced these.


Cleaned the pinch roller, lubricated the recording switch and other controls, cleaned the tape head and played a cassette.

The sound output was not good enough and I could sense a lot of noise. Checked the ESR of capacitors and found these two be way out. Hence replaced all the electrolytic capacitors. Since the exact matching sizes were not available, I had to move one to a gap found near the motor. The motor has a speed controller PCB outside.
Now you can see the insides of this lovely and compact Tape Recorder, along with the placement of one capacitor in a gap. The capacitors are fit, bent on the board to save space, which is quite common in Walkman type tape recorders.





As you can see from the picture of the recording switch (4th above), it does not have its own spring and will not return to normal position automatically. We need to be careful on this while putting the mechanism back, and also before making a trial play. Otherwise, the tape will get erased! The recording switch will be in 'normally closed position. But sometimes while removing or working on the board or cleaning, this will move out! In  certain tape recorders such as these, the lever to hold the switch in position will be on the mechanism.
Now I turned my attention to its adapter, which was in a total mess up! So, replaced its cover and wires. Since using a lengthy DC wire is not advisable, instead of using the two pins on the adapter, I removed these and provided a mains cord with a fuse covered by self-shrink sleeve. Then cut short the DC wire to keep the adapter besides the Tape Recorder.

After fitting these properly, I played the recorder for several hours and found the performance to be excellent!

Here are the tolls:

You will notice that the adapter was a custom made one and the mechanic who did this, used telephone cable for 230V AC input and another lengthy DC wire. Both are not at all advisable.
Anyhow, a job done to my utmost satisfaction!

This article was prepared for you by Parasuraman Subramanian from India. He is 68 years old and has more than 30 years' experience in handling antique equipment like Valve Radio, Amps, Reel Tape Recorders and currently studying latest tech-classes conducted by Kerala State Electronics Technicians' Association. He has done graduation in BBA degree, private diploma in Radio Engineering and retired as MD of a USA company. Presently working as Consultant to Hospital and other institutions.
Please give a support by clicking  on the social buttons below. Your feedback on the post is welcome. Please leave it in the comments.
P.S-If you enjoyed reading this, click here to subscribe to my blog (free subscription). That way, you'll never miss a post. You can also forward this website link to your friends and colleagues-thanks!
You may check on his previous repair article below:
https://jestineyong.com/how-to-repair-foxin-atx-power-supplies/
Likes
(

63

)
Dislikes
(

0

)