Servicing Four Radios, SONY ICF7600AW – PHILIPS RL118 – SANGEAN SG700L – PHILIPS PRESTIGE 556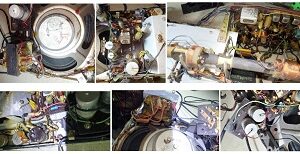 One day, I was surprised by one of my regular customers, when he brought three Radios for service. I will provide the details of these below:
Case (1) – Sony ICF7600AW :

I took this picture from a video and that is why you see the play mark on it. The complaint was it was dead. I opened and cleaned the set thoroughly. Found batteries had leaked and the minus side spring was rusted and broken.
Replaced it from my stock and adjusted it suitably for a proper seating. The spring was soldered to the base plate after scraping it very well. Then cleaned and lubricated the switches and controls. Set worked very well!

Case (2) – Philips RL118 : Problem reported, set was dead.

The work was very simple. I sprayed WD40 on the band switch and controls and also on the on/off switch of the volume control. The set was working superfine. Just see how a complicated looking problem got solved with simple lubrication. Many times, if we use very simple methods, sets can be brought back to life.
Case (3) – Sangean SG700L: Problem reported, set was dead.

In this case also, just cleaning and lubricating battery contacts, switches and controls solved the problems.
Though there were no complicated technical work in all the three Radios, except a little in one, I am sharing this with you all only to highlight how important it is to accept all the sets that come to you. Never ever decline a set without taking the trouble of looking into it. In this case, I only charged for two sets, as I had to open them and clean inside. That too very nominal amount (say around 3 US $)! It is always not money that gives us satisfaction; it is the result that provides it. How happy I was and the customer cannot be explained in words. That is the very reason I am sharing this experience with you all!
Unfortunately, there are many technicians whom I know never take Radios, Two-in-ones, DVD players and such audios. Well, I cannot blame them. What they need at the end of the day is money and nothing else can replace it. But I suggest that such technicians should take a brake at-least once in a while and do these types of odd jobs just for thrill and deviation from monotonous works. That is the very purpose of writing this article! Of-course, before I conclude, I allowed the satisfaction to get added thrice! (LOL)
Addendum:
Case (4) – Philips Prestige 556

After I completed the above article, one more radio came in, which compensated traces of chagrin that was created by the above article, which in fact did not contain anything worth mentioning. I was in two minds whether to post the article or not, in a forum of international repute run by our great Jestine Yong, when this case came to my rescue and solace. Since I forgot to click the front and back snaps, I downloaded following two pictures from the web in order for those who want to see the model:
The set belonged to my neighbor who stayed alone. He lost his only son long back and his wife almost an year back. His only entertainment was watching TVs and listening to this Radio. The complaint was it developed intermittent problems and subsequently become dead. Incidentally, this had visited me in August, 2011 for same problems.
On opening and checking the power cord, which was the case last time too, I found it cut and open. After replacing the power cord, the set came on and was working. But, I did not want to give the set to him without subjecting it to a thorough reconditioning. So, I replaced all the electrolytic capacitors, which of-course were way out of values. The Radio used a push-pull audio output, using AC187/AC188 Germanium transistors. I also cleaned and lubricated all the controls and switches. The shielded wire from volume control to audio section board was in bad shape and I replaced that also. It is very interesting to have a look at the inside of this Radio (Please use control and upward arrow keys to zoom):

The following two pictures are after I replaced the electrolytic caps and retouched the three boards.

After this time consuming work, when I played the radio, it was working so well that my techie friends in whatsupgroup were almost charged to throng my home to grab it, after I shared the video! I played the radio for several hours by selecting various bands and tuning stations. The Radio was working extremely well! It took a lot of courage to control my itch to ask the customer whether he would sell it off to me!
The last picture above and the following one are out of print screen I used while playing the video and that is why you see the symbols at the bottom of these two images. Well, well, well, the satisfaction this time was so bulged that the collection bag had to readjust its mouth like a python to swallow it! (LOL) Following two images are mandatory for conclusion of this article, which without this addendum would have looked stale!


This article was prepared for you by Parasuraman Subramanian from India. He is 72 years old and has more than 30 years' experience in handling antique equipment like Valve Radio, Amps, Reel Tape Recorders and currently studying latest tech-classes conducted by Kerala State Electronics Technicians' Association. He has done graduation in BBA degree, private diploma in Radio Engineering and retired as MD of a USA company. Presently working as Consultant to Hospital and other institutions.
Please give a support by clicking on the social buttons below. Your feedback on the post is welcome. Please leave it in the comments.
P.S-If you enjoyed reading this, click here to subscribe to my blog (free subscription). That way, you'll never miss a post. You can also forward this website link to your friends and colleagues-thanks!
You may check on his previous article on Rejuvenation Of PHILIPS Tuner Amplifier Model AH719
Likes
(

57

)
Dislikes
(

0

)