SERVICING LG DVD HOME THEATRE MODEL HT-155DD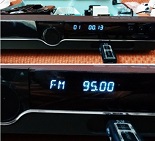 This DVD player was brought to me with a complaint that DVDs/CD won't  play but USB and FM were ok. Customer also told me that it was never used ever since bought and lying in its carton for months together! On checking I found that it ejects and closes properly, and I could hear CD running. So, I opened the set. Then I tried playing a CD to observe what happens.
The CD was running at its normal speed, eye unit was moving up and down, Red laser light could be seen from the side. (Caution: Never look at a laser light directly, as it may affect the eyes and we might even lose our sight!) But after running, and movements of the eye unit, the CD gets ejected with a display 'Disk Error':

I cleaned the lens and tried with a few DVDs as well with the same result. As the inside of the player was very clean, there was no need for any cleaning. I disconnected the power cord and removed the boards for detailed study.


I noticed that there were no dry solders and no bulgy capacitors. The ESR of Electrolytic capacitors in the power supply board were ok. This has two transformers, one for generating low voltages and another for generating 34V (I think it is for audio amplifier section). I took a snap of the voltages written only at the bottom. The main board consisted of uController, CD Unit Controller, FM tuner, Aux input, Amplifier section, Speaker Outputs. See its rear:

When I checked the ESRs of capacitors on the main board, I noticed that ESR reading of two 470uf/10V caps and four 10uf/16V were either at brim or above the levels. Marked these capacitors with a sketch pen on its top, for identifying and removing it later.

Replaced these carefully, as the capacitor leads were bent and soldered on the other side. Almost all these capacitors were mounted from the component side, but had no connecting tracks on the top.    See the pictures below:

Using desoldering linz wire, removed the solder from the leads thoroughly, and carefully straightened the bent lead with a sharp knife, taking care not to tear the hair line tracks, and removed the cap and replaced with a new one after testing it. (Nowadays, if you do not check a new component, before replacing, that itself can give trouble! That is the standard of quality!). Cleaned and lubricated all the connectors as well as the sliding motor paths. Put the PCBs inside the cabinet temporarily, and interconnected. Switched on and ensured that all voltages were in order.Played a CD.
CD started playing, but it was skipping and was also sluggish, indicating that all was not well in the sliding motor section. Checked whether there was any dust particle or some other obstructing things on the rods on which the eye unit moves. I could not find any. So, replaced the sliding motor. Reconnected everything and switched on. The player worked very well! Why should a motor fail in an unused DVD player is anyone's' guess!



I played a few DVDs and CDs and kept it on for a few hours. Tried the USB and FM and these were also working perfectly well.

I connected a single speaker that I used for testing all the outputs and these were also ok.
Fixed all the screws and cover properly. Here is a picture of the motor and capacitors replaced:

Another job completed satisfactorily.

This article was prepared for you by Parasuraman Subramanian from India. He is 66 years old and has more than 30 years' experience in handling antiques equipment Valve Radio, Amps, Reel Tape Recorders and currently studying latest techs classes conduct by Kerala State Electronics Technicians' Association. He was a BBA graduate, retired as MD of a USA company.
Please give a support by clicking  on the social buttons below. Your feedback on the post is welcome. Please leave it in the comments.
P.S-If you enjoyed reading this, click here to subscribe to my blog (free subscription). That way, you'll never miss a post. You can also forward this website link to your friends and colleagues-thanks!
You may check on his previous repair article below:
https://jestineyong.com/servicing-philips-pet81698-dvd-player/
Likes
(

106

)
Dislikes
(

0

)