Servicing Philips TV Tester 808/TVT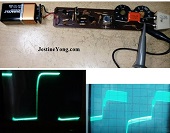 It must be somewhere around the mid of 1980s that I got a chance to include TVs in the range of electronic devices that I repaired. It was during that time, TV was introduced for the first time in Bangalore. Only B/W TVs were in the market at that time. After learning the technology from books and practical experiences, when I started house visits for rectification of defective TVs, it became necessary for me to have at-least the basic tools. That is how I bought this wonderful tool, Philips TV Tester 808/TV that has RF and Audio output, with signal level controls for both.
When we connect the RF output to the Aerial socket, we get thick bars on the screen, indicating that all is well with the TV!   This was very useful, as in the beginning, transmission was not for 24 hours. It was restricted to a few hours in a day with breaks in between. Just like a Radio. As working on a set without Telecast Signal was required quite often, this tool has helped me trouble shoot many video and audio problems in TV as well as Amplifiers!
During one of my trouble shooting works on an Amplifier, this broke down recently, and I had to set that right before I could proceed further. I opened the Tester and you can see the inner parts:

On checking the transistors, which are the most likely components that could fail, I found out that all was not well with one BC148A transistor, which comes at the final stage of Audio output. So, removed it and tested it with my Peak Atlas, which showed the transistor was faulty:

Replaced it with a BC548, and checked the output in my oscilloscope and found that the signal was ok for this type of basic audio generator. The first picture below is that of Audio and second is of RF (There was no defect in this circuit), which is not a modulated signal:

So assembled it back:

It becomes necessary for almost all of us to trouble shoot our tools first many times, and this was one such. I thought of sharing this with you all, as this tool is a unique device, which may not be very common. Unfortunately, this was discontinued by Philips long back! The fact that it failed only after working for so many years, shows what was the quality of products available that time! I forgot to mention that I retouched all the solder joints and cleaned the PCB thoroughly as a preventive maintenance. This device does not use any electrolytic capacitors.

This article was prepared for you by Parasuraman Subramanian from India. He is 66 years old and has more than 30 years' experience in handling antiques equipment Valve Radio, Amps, Reel Tape Recorders and currently studying latest techs classes conduct by Kerala State Electronics Technicians' Association. He was a BBA graduate, retired as MD of a USA company.
Please give a support by clicking  on the social buttons below. Your feedback on the post is welcome. Please leave it in the comments.
P.S-If you enjoyed reading this, click here to subscribe to my blog (free subscription). That way, you'll never miss a post. You can also forward this website link to your friends and colleagues-thanks!
You may check on his previous repair article below:
https://jestineyong.com/servicing-chinese-retro-lantern/
Likes
(

87

)
Dislikes
(

0

)