Servicing Small Size Power Supply- Model LC-8180FSX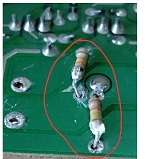 This SMPS was brought to me with the complaint that the fan runs slowly and erratically. As, usual, opened the unit, subjected it to a thorough cleaning inside including the fan. Observed one capacitor bulgy. Checked whether the fan was running smoothly. Checked ESR of other capacitors and found these to be far beyond the limitations.
Hence removed a few and checked the capacitance and found these also to be very lower. So, replaced all the electrolytic capacitors (which is something that has become my trade mark in servicing!), finished retouching all the solder points, as there were a lot of dry solder points. No surprise, as this is round 5 years old.

Since the replacement capacitors for 330mfd/250V was slightly larger in size, I drilled special holes on the board and fixed it. The resistors on top of the PCB were shifted to the bottom to accommodate the larger size capacitors. As the positive point of one capacitor had encroached the ground, scraped it, keeping it at a safe distance.
Checked whether the top cover would fit it in properly. With a bit of squeezing, it did. Since the fan connector was found burnt, I soldered the wires directly.




Connected the ATX power supply checker and switched on. It worked perfectly well.

Here are the bad capacitors, which were replaced:

Since the troubleshooting and rectification work was finished in record time, added this job too to my already lengthening satisfaction list, and did not forget to pat myself on the back, unseen by anyone, though. Otherwise, since this is not a mental hospital, someone would have called for an ambulance! (LOL)

This article was prepared for you by Parasuraman Subramanian from India. He is 69 years old and has more than 30 years' experience in handling antique equipment like Valve Radio, Amps, Reel Tape Recorders and currently studying latest tech-classes conducted by Kerala State Electronics Technicians' Association. He has done graduation in BBA degree, private diploma in Radio Engineering and retired as MD of a USA company. Presently working as Consultant to Hospital and other institutions.
Please give a support by clicking  on the social buttons below. Your feedback on the post is welcome. Please leave it in the comments.
P.S-If you enjoyed reading this, click here to subscribe to my blog (free subscription). That way, you'll never miss a post. You can also forward this website link to your friends and colleagues-thanks!
You may check on his previous repair article below:
https://jestineyong.com/open-diodes-and-dry-solders-found-in-aoc-lcd-monitor/
Likes
(

70

)
Dislikes
(

2

)