Servicing Sunma YX-3600Treb Analogue Multimeter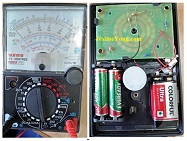 Until I read the importance of using Analogue Multimeters from Jestine Yong, I was using Digital Multimeter for many years, though I had a BPL Analogue Multimeter from the yester years (my first test instrument), which was using Taut Band Suspension instead of the pivot and jewel. Often, our Multimeters might become defective either due to wearing out of contacts or some carelessness in use. I have repaired them in the past whenever possible, including retouching the worn out tracks with lead, spreading it evenly etc. Servicing a broken taut band suspension is almost impossible as we need precision instruments to refit like in the factory. But Pivot and Jewel type can be adjusted and balanced properly; but again is a very intricate job.
The Analogue Multimeter that I bought for my service in the Hospital, developed a problem. It was showing '0' in X1 range, even where in reality it was not. I did not realize it, and did a lot of unwanted probing while servicing an SMPS, thinking that there was a short in the secondary side! (My Multimeter was showing dead short between + and -!) Only when I opened a working piece and found that the Multimeter was showing same reading there also, better sense dawned in me and I turned my attention to this MM. So, I opened the back cover and took a couple of snaps to record which wires go where. If we do not do it, if any wire breaks off, it might be difficult to find out where it was connected. This is especially true, when more than one wire breaks off!

As you will notice from the first picture on the top, this Multimeter uses 2xAA batteries for X1 range and a 9V battery for x10 and upwards ranges. Mr. Jestine Yong had detailed in his number of books, how these two ranges are different in its working, and how we can use it for checking components. The only one PCB, is snapped in place by three plastic holders. I pried each one of them carefully and removed the PCB for taking the above two snaps. Then, kept the rotary switch in X1 position and checked where the three contacts underneath the switch touch. Please see the following snap:

Then tracked the connections and found that it has one SMD resistor marked as 100 (for TEN Ohms).  When I checked with my SMD Tester, it showed very high value. Knowing Chinese tricks on using different value resistors in their circuits I checked another resistor on the board which also had 100 marked on it. It showed 10 Ohms. Then I knew that this was the culprit. I placed my soldering iron on top of this resistor, after applying flux, and it came out very easily.  I rechecked the resistor and found it was showing very high resistance:

Took out one ordinary ¼ W resistor, cleaned the leads with tweezer, and routed one end through a hole found near the resistor, from the other side of the board, and soldered it in place.
Then I soldered the other end on top itself to a jumper wire which was coming to the other side of the SMD resistor (negative path from the battery).

The Multimeter functioned very well after that in the X1 range, bringing relief to me. Another hard lesson learnt (perhaps again and again!) how our test instruments can mislead us! In this case, I think it was some sort of over-confidence that I ignored this possibility, in spite of checking with a DMM and finding a different reading!
Anyhow, a happy ending!

This article was prepared for you by Parasuraman Subramanian from India. He is 68 years old and has more than 30 years' experience in handling antique equipment like Valve Radio, Amps, Reel Tape Recorders and currently studying latest tech-classes conducted by Kerala State Electronics Technicians' Association. He has done  graduation in BBA degree, private diploma in Radio Engineering and retired as MD of a USA company. Presently working as Consultant to Hospital and other institutions.
Please give a support by clicking  on the social buttons below. Your feedback on the post is welcome. Please leave it in the comments.
P.S-If you enjoyed reading this, click here to subscribe to my blog (free subscription). That way, you'll never miss a post. You can also forward this website link to your friends and colleagues-thanks!
You may check on his previous repair article below:
https://jestineyong.com/471k-mov-cracked-in-led-tv-repaired/
Likes
(

68

)
Dislikes
(

2

)