Servicing TEAC A500 Stereo Deck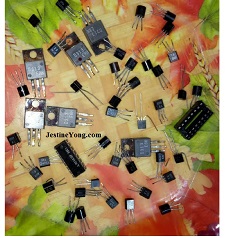 Before starting reading this article, I request you all to refresh my article on this Deck, published earlier By Jestine Yong on August 29, 2016:
At that time of servicing the deck (July, 2016), I had suggested to the customer for replacement of all electrolytic capacitors as a periodical maintenance, since most of these were in the brim. But he did not agree as he holds an opinion that company's original capacitors should not be changed unless and until required, as it might affect the audio quality, especially the tone and other effects. Well, since he is an expert in audio, I did not insist and budged to it. This is a point, I would like the expert readers of this article to do comment and clarify.
This was bought by another customer as it was in his use since then. It was brought to me on 17th June, 2018 with the complaint that the relay was chattering. As usual, the first step is to clean the set very well, which I did. Powered it up and left it on and indeed the 'bird' started chirping! I disconnected the power, and checked the relay and its surge protection diode and did not find anything wrong. When I powered the relay externally, it stayed on and was not getting hot. Naturally, our attention will be on the power supply section. When I checked the ESR of the capacitors, these were way out and I decided to replace them. When I was desoldering the caps, one leg of a capacitor was found loose and it just came off when I desoldered the other leg! Another had leaked, cracked at bottom and rusted!


After replacing the capacitors in the power supply section, the 'bird' stopped chirping! I replaced even the filter capacitor near the relay. Now, as had happened in July, 2016, the control system started its misbehavior, exactly the same way it did earlier! Since I already had the experience of troubleshooting this earlier, I replaced all the electrolytic capacitors on this board and checked the transistors one by one. I did not find anything wrong with it when checked with Analogue Multimeter. In the process, I suspected that the IC had become defective. Removed it, as it was on a socket and checked it separately, keeping it on a breadboard, and applying the power. The required output voltages were not available on two pins, indicating that it indeed was defective. Since I did not want to replace a new one and try it out, without combing the entire control board thoroughly, I put the same IC back, though I had a new one with me (as mentioned in my earlier article). Since the partial defect might only affect certain functions of the IC, it did not matter at that time. But I was yet to lay my hands on the culprit, which surely were one or more transistors on the board. While I was in the process of checking each section, the IC became hot and I switched off the set immediately and noticed that it had developed a crack on top.



So, I had no alternative but to replace it. But I did not want to do so without checking the board further. That's when I decided to declare another war with this set. I removed every transistor on the board (41 numbers in total), writing down the reference numbers on the board and that on the transistor. I kept my Peak Atlas permanently connected to three pins on a small breadboard to avoid using its clips each time for checking the 41 transistors. It served as a test jig. I marked the transistor numbers on the circuit diagram too. Then noted down the condition of the transistor alongside, after putting a tick mark for having checked it.




The transistors were misbehaving in such a way that it will show defect when inserted in the breadboard, but will show ok when rechecked. In fact, it was some sort of comic like Tom and Jerry! But I caught a couple of real culprits too! I had segregated the transistors based on the numbers, i.e., C945 (NPN), A933 (PNP), D313 (NPN), C1741 (NPN) and C1645 (NPN). So, when checking, I also segregated it based on the HFE, like a quality inward checking in 'Goods inward department', and kept out the defectives! I rechecked the defective transistors by connecting the test leads directly.





So, the decision was to replace all the 41 transistors on the board, because of intermittent behaviors of some. I bought replacement transistors and subjected it to quality checking like before, segregating it on HFE basis. I wanted to use transistors which have closer HFE in each section. This is another way of ensuring proper functioning. Even in the new transistors, I found four of them defective!

After quality checking, I replaced all the transistors one by one, putting a round mark on the list which I had prepared earlier and simultaneously putting a tick on the circuit diagram whenever a section was completed. I kept the circuit diagram beside to populate the transistors with closer HFE in each section.
Here is the board put back in its place, after completion of the work, replacement of the IC and its socket (reason for failure of the earlier IC, due to loose contact):

Powered the set and found it to be working very well. Ran it for several hours.
Ran the tape and checked all the functions including recording. It was working superfine now!

Reassembled the set and transferred it to delivery room! (Sit out of my house!)
I forgot to mention that I had replaced all the electrolytic capacitors in the deck this time. Here is the picture of the components replaced, as well as those found defective in inward quality checking.


Thus, my 'satisfaction list' bulged further and extended itself farther! Looks like my satisfaction bag is like Lord Ganesha, who is believed to be capable of swallowing everything in this world, but still remain hungry! (LOL)
By the way, this is my HUNDREDTH article being published by Jestine Yong, and I thank him as well as all of you who have encouraged me and kept me driving ahead! A BIG THANK YOU to one and all! I am so excited over this achievement that I feel like dancing! (LOL)

This article was prepared for you by Parasuraman Subramanian from India. He is 69 years old and has more than 30 years' experience in handling antique equipment like Valve Radio, Amps, Reel Tape Recorders and currently studying latest tech-classes conducted by Kerala State Electronics Technicians' Association. He has done graduation in BBA degree, private diploma in Radio Engineering and retired as MD of a USA company. Presently working as Consultant to Hospital and other institutions.
Please give a support by clicking  on the social buttons below. Your feedback on the post is welcome. Please leave it in the comments.
P.S-If you enjoyed reading this, click here to subscribe to my blog (free subscription). That way, you'll never miss a post. You can also forward this website link to your friends and colleagues-thanks!
You may check on his previous repair article below:
https://jestineyong.com/burst-fbt-found-in-21-crt-tv-with-china-kit/
Likes
(

67

)
Dislikes
(

0

)