Sharp Microwave Oven Repair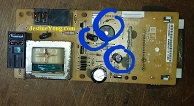 This microwave oven was sent to me by a neighbour with complaints of not heating, but turntable rotating. I check it by oning it, it powered and almost immediately it went dead. I opened the cover case and to my surprise, both the psb and high voltage fuses were bridged with thick wires, which both didn't break. I checked on hv components- primary winding of hv transformer was dark or should I say burnt?, see pictures below:


Hv cap was open(uf and built-in resistor open, but not shorted to body case), Hv diode tested ok, Hv magnetron tested with continuity test ok, but can't be rely on.
Now I checked Hv Transformer (tx) with AMM, DMM and also suggested methods of Mr Parasuraman.S of article
24/2/2020
and of
15/7/2016
, tx passed all these tests, however I was skeptical on these results: See pictures below:



When I connected 150ohms resistor as load and power on, resistor did not get hot, burnt, open nor damage, still intact. But when I connected a thin wire across the secondary pins and switch on, the wire burnt off. Does this suggest tx is Ok with output voltage? Puzzle!!. Well I decided to use another tx for the repair.
So I first replaced all defective components except magnetron and powered on with a cup of water inside oven, it power on, but water didn't get hot, and oven went dead again. Checked components again–ok, psb ok. Then I suspected front control board. Pull it out and did random tests on components, detected a red small diode open and two e-capacitors' esr on edge, see picture below:


replace these bad components and also replace magnetron. Fix everything back and put a cup of water inside oven and powered on for 1min, Wow water got hot. This is the finished repaired work.

All have a nice day.

This article was prepared for you by Imoudu Onwumah from Nigeria. He is 62 years old and has just 3 years experience in electronics repairs. I started career in hotel industry as a chef, but then I was doing repairs only in electrical repairs as a hobbyist. In 2018, I decided to learn about electronics which through
Jestine's electronics e-books
and holding my hand, am an electronics techie today
Please give a support by clicking on the social buttons below. Your feedback on the post is welcome. Please leave it in the comments.
P.S- If you enjoyed reading this, click here to subscribe to my blog (free subscription). That way, you'll never miss a post. You can also forward this website link to your friends and colleagues-thanks!
Note: You can read his previous article on LG Home Theater Repaired
Likes
(

64

)
Dislikes
(

1

)