Short Circuit Finder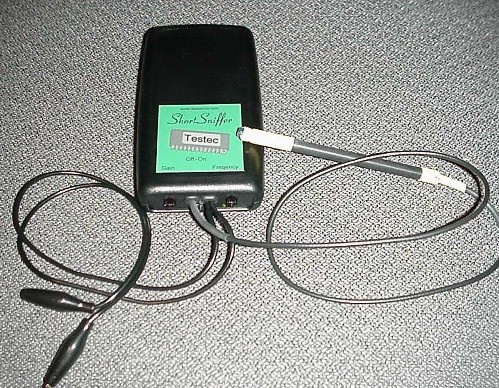 The short circuit finder test equipment is not new in the market. It is already available since in the 90's and there are many companies currently selling it like Polar Instrument Tone Ohm 950, EDS Leakseeker 82B, B & K 260 Tone Generator, Qmax QT45 low cost short locator and etc. Currently I'm having the EDS Leakseeker 82B which I have bought back in the year 2003. While googling I found a new tester below and you can click on the photo to check it out.

The primary aim of the short circuit finder is to detect shorted components in high density board thus if you repair circuit board that does not consist lots of components then don't' get one. If your job is to troubleshoot and repair motherboard that consist lots of SMD components then it is necessary to have one so simplify your job in detecting the shorted component. If you have know that if a particular component is leaky then the short circuit finder may not or hard to detect it.
The short circuit finder is designed to detect those components that have a complete short circuit to ground that have cause the power supply to malfunction. Let's take the dot matrix printer as an example. The Dot Matrix printer consist of a Mainboard and a power supply board. Assuming if there is a non polar cap shorted to ground in the mainboard, the current draw will be increases and this will cause the power supply to shutdown. Once you have separated the mainboard from the power supply by removing the connector the power supply will work again. In this kind of scenario, you can use the short circuit finder to trace or detect the problem.
The short circuit finder can be used in any repair field but preferably on the high density components board. The reason for it is simple- if a circuit board consist of less components I would rather just remove those components along the DC supply rail line to check for short circuit using my ohm meter which is faster then using the short circuit finder. Again it is your choice and if you think that you want to use the finder on less components board you may go ahead. If you are in tight of budget make sure every tester you are buying serving a purpose for you otherwise the tester can be a display set in your technical department which mean you never use it in your current repairing job. This will be a waste and money is not easy to earn. If you have the short locator in the above photo I would like to hear your comments or review. Only get the short circuit finder that suits your budget.
Likes
(

52

)
Dislikes
(

3

)