Shorted Diodes Found In Makita Battery Charger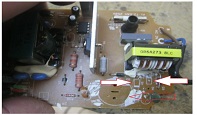 An old man walked into my workshop carrying a battery charger that was totally dead and asked if I can repair it right away for it was urgently needed. I powered up the charger and sure enough there was no power indicator on the LED light on that charger.

The light on that charger once it was powered on should be flashing green but in this case it was completely dead and needed repair.

The fuse was open and of course when checking the bridge rectifier area I wound two shorted diodes there.

I checked the surrounding area and found that only these two diodes were shorted and needed replacement. I replaced all four diodes in that area and also checked the main capacitor.
It was ok but I did some cleaning of this white silicon holding the capacitor because once that material get dry it will become conductive.


After replacing the four diodes and connected the charger through a current limiter, the green light on that charger started to flash on and off and that is a good indication of a working charger.

I powered on the charger again; this time I added a battery and as you can see in the photo, the light changed from flashing green to steady red light and according to the specification the battery is being charged at this time.
Mission Accomplished.

This article was prepared for you by Waleed Rishmawi, one of our 'Master Authors' and currently working in the Bethlehem area of Palestine repairing electrical and electronic equipment.
P.S- Do you know of any your friends who would benefit from this content that you are reading now? If so, forward this website to your friends or you can invite your friends to subscribe to my newsletter for free in this Link.
Note: You can check his previous repair articles in the link below:
https://jestineyong.com/k2837-fet-shorted-in-welding-machine-repaired/
Likes
(

60

)
Dislikes
(

0

)