Shorted IGBT In Welding Machine Repaired. Model: ACR250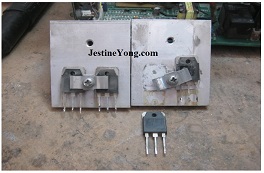 A friend of mine who has a repair shop in town called me about this welding machine. He said it belongs to his friend and he wanted it to get fixed. My techi friend does not repair welding machines therefore he asked me to help him out in this matter.

I powered it through my current limiter and as seen, it has no sign of life whatsoever.

The machine was already opened by my friend and by looking at it I did not like what I saw.
The way the cables are connected together inside the machine is not my way of doing things but anyways, the repair will continue if I like what I see or not.

From experience, this kind of machines go dead the moment the IGBT's are shorted out and that is where my checking started. As expected, four of these IGBT are shorted and needed replacement.
The part number on these parts is FGA6560WDF which is 60 amps and 650 volts ratings and sad to say I did not have these parts available in my shop so I contacted my friend and explained the situation. The customer was willing to wait for the parts to arrive because he has other welding machines in this shop therefore he is not in a hurry.

Click here to view FGA6560WDF Datasheet

I placed the order and hopefully I will get this in a two weeks to one month but at the mean time I did some checking around these shorted IGBT's to make all is well before installing the new parts and end up with a disappointment.

I took a look at the fan and I did not like what I saw. It is not the original fan and it is too tiny to provide the right cooling for this welding machine. Of course I gave my recommendation to my friend but I got an answer back that the customer is content with this fan and he does not want to replace it at this time.


The parts came and the replacement was done. I was about to power on the machine through a current limiter when I saw these wires.
The color code on these wires is different and therefore I cannot tell which one is the ground because usually in my country the ground is usually the green but in this case it was different. Take a look

In this case, the white was the ground wire and I was so glad I checked because if I did not I might end up with a boom in my shop and I do not like booms..LOL

Power plug was installed, powered on the device and the machine is alive and I was getting the right voltages here. I called my friend and he was happy to hear the good news so he drove to my shop for pick up.
Mission Accomplished.

This article was prepared for you by Waleed Rishmawi, one of our 'Master Authors' and currently working in the Bethlehem area of Palestine repairing electrical and electronic equipment.
P.S- Do you know of any your friends who would benefit from this content that you are reading now? If so, forward this website to your friends or you can invite your friends to subscribe to my newsletter for free in this Link.
Note: You can check his previous article on How To Fix A Remax Welding Machine
Likes
(

53

)
Dislikes
(

0

)