Found Shorted Mosfet TSF5N60M In 3 Amp 12 Volt Power Adapter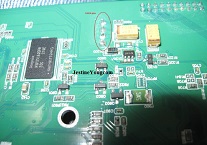 A year ago I had replaced my DM800HD_pvr satellite receiver by a model Sunray4 SIM2 800HD_se with Wifi. (by-the-way: the Wifi dongle is internally connected to the front USB port that can't be used now!). It worked fine but the SIM2 original Chinese software that was replaced by a better European image (in order to be able to scan the European satellites instead of the Chinese ones) for unknown reasons still wasn't working at the right local time. And it kept displaying the wrong time although the right Time Zone (Brussel, Amsterdam) was set.
Therefore the Sunray DM800HD_se couldn't be used with the EPG recording timer and only worked after starting a recording manually on time. Probably another reason why not to buy these Chinese Clone Dreamboxes.
Because backing up the image was already been done successfully previously, I decided to try another better suited image. Sadly after two days of effortless trying all sort of images, I noticed that flashing kept failing. And the Sunray Flashup program rapported a memory error in sector 3. And even flashing with my unregistered free Yassinov's great Optiflasher program now failed everytime.
Because my receiver was useless without a new successfully flashed upload I opened my reciever to see if I could find anything wrong. And I noticed that the internal Fan didn't rotate and probably because of it the internal mainboard and tuner board chips got quite hot now.
I then checked if the 3A 12V power adapter got hot, but it wasn't. And after I pulled the plug out of the Sunray DM800HD_se and measured the output voltage it was fine.
But just after I had re-attached the power adapter into the receiver I heard a bang coming out of the power supply. And the green led on the supply had stopped working.
How both problems are related I can't say, but after I tried my Sunray with another good 3A 12V adapter it worked fine. But the receiver still wasn't successfully flashable. Sadly my Chinese supplier reacted by telling me to try my Sunray receiver with another power adapter, and that was the last I heard from them. Anyway none of the internal Sunray e-caps were bulged, and none of the components were showing signs of burns or defects either. So this repair is that of the defect original Dreambox 3A 12V power adapter.

After I checked the power adapter I found several defect components on its board. Following parts were defect and need replacement: 1 x Mosfet TSF5N60M completely shorted, 1 x open Fuse T2A/250VAC, 1 x bulged e-cap 1000uF/16V, 1 x Diode rectifier bridge KBP206 on the primary side, and one resistor with color code blue-gray-silver-gold (0.68 ohm ?, I will come to that later). And it looks like the resistor (1W) had blackened the Alu cooler plate of the Mosfet, which could somehow have short circuited if the resistor made contact with it.
Below the HV 400V 47uF (just 400V seems very low? normally they are 450VDC) primary e-cap there also is a 8dip CR6850T PWM controller chip on board. And that chip is destroyed too in the process and measures fine between Gate and Ground but completely shorted between pins 2 and 8 (Vdd and GND) . And like in most of these cases Mosfet and PWM controller are destroyed simultaneous and both must be replaced.

So now I had to order these parts and wait.
These 'green' PWM chips apparently are very easily destroyed because I noticed I could order 100 of them for just about 12 Euro at free shipping. I only ordered 10 of them for 1.18 Euro and also 50 optocouplers 4pin type 817 for only 1.53 Euro free shipping because they are frequently used in this and almost all other portable power adapters.
By-the way: Optocouplers didn't exist yet in the 70s, so many projects were destroyed because there was no safe galvanic separation from any HV circuit part possible. So these optocouplers are a very big improvement that makes all power adapters and all other consumer electronics safe.
About the 0.68 ohm 1W resistor I previously was speaking about. The 4-band code checked with the android app Elektrodroid gave exactly 0.68 ohm as result. So no weird answers there, but when I received the ordered new 0.68 ohm 5-band resistors the code didn't match any color code table. Something that on previous repairs from others on Jestine's blog was no rare incident.
See next photo that shows the 0.68 ohm 5-band color code that Elektrodroid nor any other colortable can calculate. Because the brown color band doesn't exist in the 5-band tables. Of course I measured the resistor value with my Blue ESR tester and it was exactly 0.66 ohm. Which is including any tolerance just fine!

Above Photo showed the defect Mosfet with the black spot on the coolerplate where the 0.68 resistor must have touched.
Today after almost 3 months of waiting (!) on my eBay order on the long awaited Fqpf5N60C N-channel mosfets they finally had arrived. And the kind seller likely may have sent me another pack of 10 of those mosfets because I had explained they had not yet arrived within the previous 2 months. And in case they do arrive a second time I assured the seller that I will give him notice and pay for them too.
The first thing I did before replacing the aluminium cooler plate with the new mosfet on it, is insolate the leg of the 0.68 ohm resistor. Because that must have been causing the short circuit that destroyed the Dreambox 12V 3A DC power supply. (See the black spot on the previous photo of the cooler plate with the old completely short circuiting mosfet on it).

Above photo shows the re-inserted cooler plate just before soldering the 3 mosfet pins
and 1 coolerplate pin back in. Below the handy 60W light bulb I use in my tests.

And previous photo shows that the green led is working and the supply is giving 12.26V again. Job done!
So to summarize, I replaced the 8 dip CR6850T PWM controller chip (10 for only 1.18 euro), the completely shorted Mosfet TSF5N60M , 1 open Fuse T2A/250VAC (50 x for only $1.80 ), 1 bulged e-cap 1000uF/16V, 1 x Diode rectifier bridge KBP206 on the primary side (only $0.99 for 10 of them), and one resistor with color code blue-gray-silver-gold (50 x 0.68 ohm 1W for 2.24 euro). And my Dreambox 12V 3A power supply was perfectly working again with all parts used just costing about 53 cents total. So another repair at almost no cost, and with a lot of spare parts left for next repairs!

Opening and placing back the top case of the box was easy as above photo shows. Also notice the transparent small bag with the remaining new 9 Fqpf5N60C mosfets (only $2.29 for 10 of them).
About my Sunray SR4 D11 revision board Dreambox repair: in the meantime I ordered one 64Mbit x 8 Nand Flash chip that is going to replace my bad flash chip that is causing the Image flashing error(s). And the not working internal cooling FAN is probably caused by a small SMD mosfet that must be replaced that switches the 12V DC voltage to the plus of the 4 FAN wires. Which is placed at the solder side of the board.
See next photo of the solder side of the Sunray rev.D11 Dreambox board (that can be bought new without the Dreambox SIM2.10 chip for around 75 euro).
The Red circle shows the legs of the 4 pins of the Fan connector. The Blue circle must be the mosfet that is defect on my board and needs to be replaced. And the last photo of my Sunray SR4 rev.D11 Dreambox satellite receiver board shows the Nand chip on the component side that causes the Image Flashing errors why my Sunray fails to Boot. (1 x Hynix H27U518S2CTP for 3.39 euro)


Because I use a couple of Dreambox recievers at home that I need to be able to flash/reprogram, I recently also bought the licence for Yassinov's Optiflasher Pro 3.0 Ultimate + the E2USB PACK-A1 program. The No CA repair program NCF-SIM2-v3.0 already worked many times splendidly for free, and so did Optiflasher. But if you want to restore/reflash any bricked Dreambox satellite receiver with a new image you better use the licenced versions from Yassinov which will enable you to download the correct Dreambox Images online right into your Dreambox.
And I bought the Full licenced Optiflasher program especially because the program apparently also is capable to Recover Sectors of bad Nands. Something that sadly also requires you to be connected to the internet because also this only works online! And as I wrote need now to recover my unflashable Sunray receiver.
The major disadvantage of both programs however is that the licence key only works on the PC where the key request ID was generated on. So the program is not portable. And if your PC fails one day beyond repair, you probably will loose the (both programs together cost $30/30 euro) licenced versions.
And that is just the problem for me at the moment because the desktop PC that is hooked onto my Router and my Dreambox receiver has no online connection. And because I only have an online connection on the PC in only one of my rooms, on which I have the Licenced (registered) Optiflasher version installed, I have to move to entire Router network from my living room to my bedroom. And that is not at all what I expected as a registered paying customer.
I do hope to easily solve this problem so I do not have to carry my entire LAN network to my bedroom. And I have to ask Yassinov if he has a solution for a honest buyer like me to avoid loosing my registered programs in the nearby future and to make my licensed programs portable.

Albert van Bemmelen ,Weert, The Netherlands.
Please give a support by clicking on the social buttons below. Your feedback on the post is welcome. Please leave it in the comments.
P.S- If you enjoyed reading this, click here to subscribe to my blog (free subscription). That way, you'll never miss a post. You can also forward this website link to your friends and colleagues-thanks!
Note: You can read his previous repair article in the below link:
https://jestineyong.com/electronics-timer-repaired/
Likes
(

83

)
Dislikes
(

0

)