Shorted WII play station power supply repaired. Model: RVL-002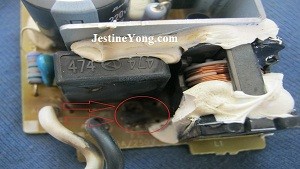 An American guy who recently moved to my home town brought this play station to my shop to be repaired. As we all now, the power in the USA is different than the power in the Middle East. He plugged the play station into the 220 volts and damaged the power supply. He is the story.

To open the cover, I needed a special screw driver. I bought this nice set in the USA long time ago and they are great.
I have done this kind of repair many times and it is an easy fix. The dark black burn will lead you to the damaged part.
Once I get it open which only two screws to come off, I was able to this the black burn. In this case, usaully the fuse and the varistor are the damaged part but you never know so check the surrounded component that might be damaged.

Here is what I saw. The marked area is the damaged parts. It is amazing how many times I opened this kind of power supply to find out that the varistor protected the whole power supply. It is a very tiny power supply but this one produces 12 volts and 3.7 amps.

Here is a closer look of the damaged area. I had to clean the whole area with a chemical solution before adding any new parts. The varistor number (V7271U) and the fuse (3.15 amp) were replaced.

The rest of the surrounding component checked out to be in good working conditions.
The moment I replaced these two parts, the power supply was brought back to life. Again I have used the light bulb trick and it showed no short in the power supply.
I put everything back together and asked the guy to bring me the play station. I powered up the machine and it worked nicely. He has been playing with it for the past week and seems like all is in good working condition. I was happy with the repair and obviously he was too because he was generous with the pay. Mission Accomplished.

This article was prepared for you by Waleed Rishmawi, one of our 'Master Authors' and currently working in the Bethlehem area of Palestine repairing electrical and electronic equipment.
Please give a support by clicking  on the social buttons below. Your feedback on the post is welcome. Please leave it in the comments.
P.S- Do you know of any your friends who would benefit from this content that you are reading now? If so, forward this website to your friends or you can invite your friends to subscribe to my newsletter for free in this Link.
Likes

(40)
Dislikes

(0)

Likes
(

1

)
Dislikes
(

0

)