Should You Test Resistors OnBoard Or OffBoard?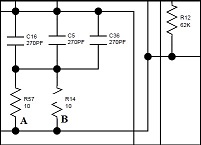 I often got technical questions from my training students and one of the most common questions was about whether to test or check resistors onboard or offboard. My answer to them was it depends. For your information, resistors in any circuit board are often connected in parallel to some other parts. It can be connected parallel to another resistor, capacitor, diode and etc. Resistors also can be connected in series with another component. Let's take a look what are the implications of testing resistors Onboard and Off board.
Onboard resistor testing
Onboard resistor testing means you test a resistor using your digital multimeter (DMM) while the resistor is still soldered onto the circuit board.
Pro:
It saves time-meaning to say that you do not need to remove one of the resistor leads in order to test the resistor value. If the resistor value is 10k and onboard testing is showing 10K, you know that the resistor under test is good.
Cons:
If there are resistors connected in parallel, the value that you measure will be lowered than the resistance of the resistor itself.
If a resistor is in parallel with an open resistor of the same type and value, the resistance measured across the remaining good resistor will still be read on the Ohmmeter. This can be misleading. Let's take a look at the diagram below:

As you know that when two similar resistors value are connected in parallel the total resistance would be half of the resistor value. For example, if a 10 Ohm resistor value is connected parallel with another 10 Ohm resistor, the Ohms reading that you will get when you measure either one of the 10 Ohm resistor would be 5 Ohm.
Now, assuming you are testing on the A and B resistor in the above diagram, and you did not check if both resistors are connected parallel or not, if you placed your test probes on resistor A you will get 10 Ohm which is fine. Then you moved your test probes to test B resistor, guess what value you will get? You will get value of 10 Ohm! Why? Because you are actually measuring resistor A if resistor B is open circuit. You may be thinking both resistors are good in which actually one of them is bad (resistor B). If you proceed to test on other components hoping to locate the fault in the equipment, I can say you will not be able to find out the fault because your mind already told you that both resistors that you have tested were good. You have been misled!
Now, I believe you can clearly see the disadvantage of testing same value of resistors onboard. Unless if you have confirmed that both resistors are not connected in parallel then it is okay to test the resistors onboard.

A typical example of same resistors value (4.7K ohm) connected in parallel
If there is a capacitor that is connected parallel with a resistor and developed short circuit, when you test on the resistor, it will show very low Ohm!

Example, if capacitor C19 has developed a direct short and when you test resistor R1017 your DMM will show a very low ohm or even zero Ohm.

A typical example of an electrolytic capacitor connected parallel with a resistor.
Many times a circuit can have few or many parallel paths thus testing a resistor in such situation will not give you an accurate resistance reading.
Offboard resistor testing:
Offboard resistor testing means you test a resistor using your digital multimeter (DMM) while one of the resistor leads is soldered out from the board.
Pro:
It will provide you with a very precise resistance test result because you are checking only the resistor alone and not the sum of all other parallel path components. This means if a resistor have even a slight tolerance value out, you will be able to notice it.
Cons:
It will consume much of your troubleshooting time if the circuit board have lots of resistors. You need to solder out all resistors leads in order to get an accurate reading value.
Note: If an experience repairer is able to locate to a small faulty section of a circuit board, he/she would be able to test all of the resistors. Since they are  experience repairers, there is no doubt the way they pull out one of the resistor leads; to test it and solder it back would not be an issue to them because they have the speed to do the job.
So which method of testing resistor is the best? 
If you would like to test resistors onboard always made sure there is no similar type and same resistor value beside the resistor that you are testing. This is to avoid the misleading test that I have mentioned above. If you get a too high or too low Ohm reading or a reading that made you uncertain to decide if it is a good or bad value, the best is to test the resistor offboard.
Normal through-hole resistor rarely short circuit or decrease in value, usually the problematic resistor value would either increase in Ohm or no value at all (open circuit). As for a problematic SMD resistor, the Ohm value can increase, decrease, short circuit and no value at all (open circuit), so take note on this.
Conclusion– It is always a preference choice of an individual whether to test a resistor Onboard or Offboard. Some experience repairers would choose to test the resistors while the power is applied. This way they can pinpoint a faulty resistor fast but one must truly understand how the circuit work and if there is a schematic diagram, it would be a plus point. Or you can use all the combinations testing methods above to test resistors. What is your resistor testing method? Please post a comment below that is related to this topic. Thanks!

This article is brought to you by Jestine Yong. He is from Kuala Lumpur Malaysia and he loved electronics repair and blogging about electronics repair information. He is the author of the famous Basic Electronics Repair and SMPS Repair ebook . He is also a trainer and conduct electronics repair courses at Noahtech Electronics Training Center.
Please give a support by clicking on the social buttons below. Your feedback on the post is welcome. Please leave it in the comments.
P.S- If you enjoyed reading this article, click here to subscribe to my blog (free subscription). That way, you'll never miss a post. You can also forward this website link to your friends and colleagues-thanks!
You may also interested in his previous repair article on The Impedance Of Multimeters
Likes
(

70

)
Dislikes
(

0

)