SONY RECEIVER SQ R-6650 Repair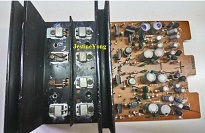 A long time ago a customer came to me in my workshop for the repair and restoration of an old SONY SQ RECEIVER SQ R-6650 device, I believe it is manufactured in the 70's of last century, as shown in the following photo:

SONY SQ RECEIVER SQR-6650 before being opened
On the workbench, I turned on the unit with two speakers in low-power test, the front quadrant was lit, but when I looked for some FM stations with Tuning Input active, there was no sound. When I opened the device, the aspects of the components seemed normal. I also thought of some faulty filtering components in the power supply, but these worked fine.
Through a quick review, I noticed that all 4 fuse 2 amp protection fuses located on the back of the unit were all burned. However, all supply voltages including the ++ B for the power amplifier were present and the power transformer was heating normal.

SONY SQR-6659 Power Supply Section
I isolate the composite power amplifier block also, through the preamplifiers for a more rigorous test. This block has a total of 32 transistors, 8 of type 2SC1060 NPN type being the main elements of output amplification and the remainders correspond to preamplifiers, voltage stabilizers and differential transistors of audio signal input.

Inside the SONY SQ Receiver without the audio power block
The transistors Q808, Q802, Q807, Q908, Q907, Q909 and D902, were all short.
Due to the bad connection of the speaker cables, which also contributed to the imbalance of the speaker impedance and also to the loudness of the loudspeaker, caused the audio power block to burst.

Welding of the replaced components
Replaced all defective components and a few more electrolytic capacitors, the SONY SQR returned to work in perfect conditions with very good sound quality.

  Audio block with all components replaced

This article was prepared for you by Manuel Loto, native of the city of Praia, capital of the Cape Verde Islands, West Africa. Electronics Technician with more than 30 years of experience. Worked with FM and AM transmitters, communications equipment and air navigation. Specializing in Digital Electronics and he also restore old, vintage, transistorized radios, valve radios and power amplifiers.



Please give a support by clicking  on the social buttons below. Your feedback on the post is welcome. Please leave it in the comments.
P.S-  If you enjoyed reading this, click here to subscribe to my blog (free subscription). That way, you'll never miss a post. You can also forward this website link to your friends and colleagues-thanks!
Likes
(

79

)
Dislikes
(

1

)